ShowingFilter 1-2 of 2 listings.
$ 32
1 Hour 30 Minutes
Duck Tours
Free Cancellation
See the best of Budapest by land and by water on a 1 hour 30 - 40 minute floating bus tour. You'll begin on the capital city's streets, snapping photos of top attractions as you drive past St. Stephen's Basilica, Buda Castle and the Grand Synagogue. Then take a splash into the Danube, as your amphibious coach continues the tour along the river, passing landmarks such as Parliament, Chain Bridge and more.
View Tour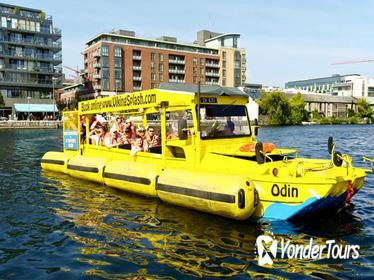 $ 29
1 Hour 15 Minutes
Duck Tours
Free Cancellation
Discover Dublin on a 75-minute tour of the vibrant Irish capital by amphibious vehicle. With a guide, see top attractions like St Patrick's Cathedral and Dublin Castle while listening to entertaining commentary. Feel your adrenaline surge as your restored World War II vehicle transforms into a boat and takes to the water for an alternative sightseeing experience of Dublin. Cruise the waters of the Grand Canal Dock while wearing a comical Viking hat and laughing along with your host.
View Tour