ShowingFilter 1-2 of 2 listings.
$ 64
3 Hours
Ziplines
Hotel Pickup Offered
Free Cancellation
Take to the skies on an exciting zipline tour through Slovenia's unspoiled Soāa Valley. With a 5-wire track that hovers 656 feet (200 meters) above ground and stretches 1.9 miles (3 km) through the trees, this 3-hour tour is perfect for the nature enthusiast and adventurer. Breathe in crisp mountain air as you cruise through the forested valley, catching unbelievable views of the Julian Alps and more!
View Tour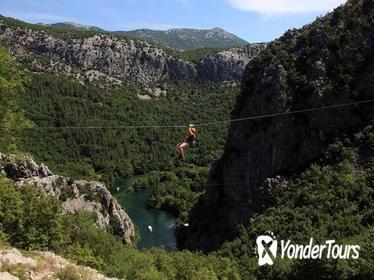 $ 103
7 Hours
Ziplines
Hotel Pickup Offered
Free Cancellation
Get adventurous while on the Dalmatian Coast with this thrilling zipline extravaganza over the Cetina River near Split. After the optional pick up in the Markarska Riveriera, listen to the training session and safety procedure from the instructor and then link up with the line that will whiz you across a gorge of extreme (but safe) heights -- specifically 492 feet (150 meters) in the air. Hop off and on and up to eight different stable platforms. Drink in the amazing views from the platforms and from each side othe river during this 3-hour tour. The zipline tour is capped at just 10 people, so you're sure have a great experience.
View Tour