ShowingFilter 1-2 of 2 listings.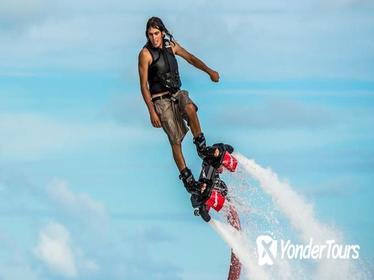 $ 95
30 Minutes
Flyboarding
Free Cancellation
Soar high above Miami's beautiful waterfront on this guided, 30-minute or 1-hour, small-group flyboard excursion. Rise to 45 feet above the turquoise waters of Biscayne Bay, propelled by the power of this water jet pack, providing a one-of-a-kind view of Miami Beach and the surrounding area. Get personalized attention and professional instruction, then grab the throttle and ride the flow. It's a thrilling experience unlike any other. Boat transport, safety equipment and bottled water included. Free parking is available in Coconut Grove.
View Tour
$ 89
3 Hours
Flyboarding
Free Cancellation
Get ready for the thrill of a lifetime with a flyboard lesson in Los Cabos bay. One of the lastest extreme sports, this hydro jetpack can send you flying in the air up to 30 feet high. An expert instructor will show you the ropes and get you comfortable maneuvering the water-propelled foot board, so anyone can try it. Attempt hovering in place or go soaring above the sea like a bottle rocket. Once your lesson complete you have a half-hour to practice and perfect your moves.
View Tour