ShowingFilter 1-3 of 3 listings.
$ 20
1 Day
Walking Tours
Free Cancellation
Step onto the cobblestone-clad streets of colonial Antigua for this flexible-length walking tour. Stroll the streets of this UNESCO World Heritage site as you visit top landmarks like the 'Ayuntamiento' (City Hall Palace), Palace of the Captain's General, the main cathedral and Santo Domingo, a well-known hotel and cultural center. A final stop at a local jade factory provides additional insight into Guatemala's Mayan culture.
View Tour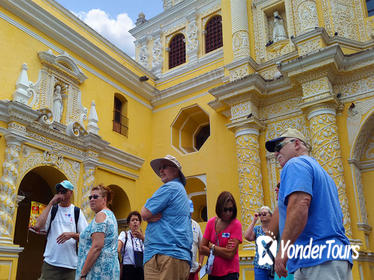 $ 20
3 Hours
Walking Tours
Hotel Pickup Offered
Free Cancellation
Get a short introduction to the Spanish-colonial charm of Antigua, a UNESCO World Heritage site, during this 3-hour morning tour from Guatemala City. This atmospheric city was the country's capital for more than 200 years, creating a wealth of historic architecture and gorgeous scenery for you to discover during your walking tour. Tread on Antigua's cobblestone streets as you explore sites like the Cathedral of Santiago, Central Park and the city's iconic Arch of Santa Catalina. Your Antigua visit also includes a guide and round-trip hotel transport.
View Tour
$ 25
3 Hours
Walking Tours
Hotel Pickup Offered
Free Cancellation
Get acquainted with the colonial treasures of Antigua on a 3-hour afternoon walking tour. Replete with charming churches and brightly colored buildings, the UNESCO-listed city of Antigua is ideal to explore by foot. Alongside your guide, you'll stroll past landmarks such as La Merced Cathedral and the Cathedral of San Francisco while listening to history-rich commentary. See, too, the recognizable yellow Santa Catalina Arch, backed by the mighty Agua volcano, and Palacio del Ayuntamiento. Receive personalized attention from your guide on this small-group tour, limited to 15 people.
View Tour