ShowingFilter 1-3 of 3 listings.
$ 117
4 Hours
Swim with Dolphins
Slip into Marlborough Sounds for a swim alongside pods of wild dolphins, with certified guides to help find the dolphins and ensure the tour is dolphin-friendly. Watch for dusky, bottlenose, common, orca, and Hector's dolphins, and if conditions allow, you'll have the chance to view the dolphins from inside the water. This dolphin tour includes wetsuits with hoods and booties, as well as hot drinks on board the boat, and round-trip transport from the Picton waterfront.
View Tour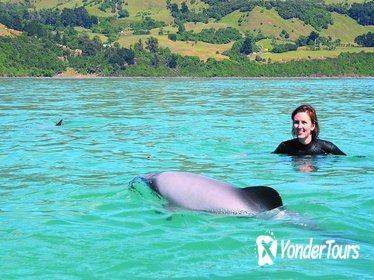 $ 210
9 Hours
Swim with Dolphins
Hotel Pickup Offered
Enjoy a unique opportunity to swim with dolphins in the wild during an Akaroa Harbour cruise. Strap on your provided wetsuit, flippers and snorkel gear, then slip into the water to swim alongside inquisitive Hector's dolphins. This full-day trip from Christchurch includes a drive through the South Island countryside to Akaroa. You'll admire breathtaking points of interest such as Governor's Bay and Lake Ellesmere en route, enjoy free time to explore Akaroa, then visit a cheese factory for a tasting session in Barry's Bay.
View Tour
$ 249
12 Hours
Swim with Dolphins
Hotel Pickup Offered
Be enchanted on a Kaikoura dolphin swim during a 12-hour day trip from Christchurch. Travel via the rolling hills of North Canterbury to the rugged Kaikoura coastline, a whale-watching paradise where you'll board a sightseeing boat and dive into the Pacific Ocean with a provided wetsuit and snorkel. Swim alongside dusky dolphins in their natural habitat and learn from your guide how to encourage interaction with one of nature's most graceful and curious sea mammals.
View Tour