ShowingFilter 1-3 of 3 listings.
$ 420
1.48 to 1.19 Hours
Helicopter Tours
Hotel Pickup Offered
Get spectacular aerial views of Belize's Great Blue Hole on a helicopter tour that flies you directly over the UNESCO-listed natural wonder. In addition to the vibrant ocean sinkhole, see the Turneffe Atoll island cluster, Lighthouse Reef, and other highlights of Belize's magnificent barrier reef, all from the air. While a boat ride to the Great Blue Hole takes several hours, save time and get a better view on this unforgettable 80-minute flight.  
View Tour
$ 225
25 to 30 Minutes
Helicopter Tours
Hotel Pickup Offered
Take in a stunning, bird's-eye view of Belize City and the surrounding reefs and islands on this 30-minute helicopter tour. Enjoy an aerial perspective and guided narration of Belize City highlights, including the Swing Bridge, Tourism Village, and St. John's Cathedral. Fly over the coastline and the aquamarine waters of the Caribbean, where you can marvel at the many islands just off shore and get a sweeping view of waves cresting over the second-largest barrier reef in the world.
View Tour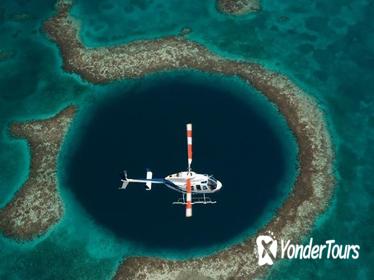 $ 1,650
1.48 to 1.19 Hours
Helicopter Tours
Hotel Pickup Offered
Get an aerial view of the magnificent Blue Hole of Belize on a private helicopter tour. On this 1.5-hour ride, you'll hover above the world's largest ocean sink hole, which boasts UNESCO World Heritage status. You'll also take in spectacular views of the nearby Turneffe Atoll island cluster and other natural wonders of the Caribbean from a 4-passenger helicopter. Once back on solid ground, enjoy a driving tour of Belize City attractions. Round-trip hotel transport is included to make your day go smoothly.
View Tour