ShowingFilter 1-3 of 3 listings.
$ 200
9 Hours
Day Trips
Hotel Pickup Offered
Explore Isla Grande, an island off the Caribbean coast of Colón Province, during this 9-hour tour from Panamá City. With your local guide, travel over land to La Guira, passing the 400-year-old town of Portobelo. Board a boat in La Guira to reach Isla Grande, where you can spend the day swimming, walking on the beach, snorkeling and fishing; activities are at your own expense. Lunch and round-trip transportation from Panamá City hotels are included.
View Tour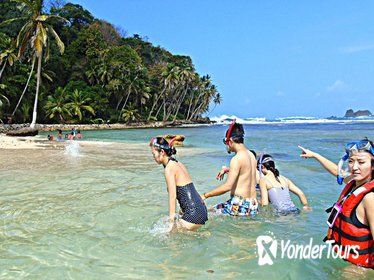 $ 85
8 to 10 Hours
Day Trips
Hotel Pickup Offered
Free Cancellation
Explore UNESCO-listed fortifications, swashbuckling pirate history, and a Caribbean island on a full-day trip from Panama City to Portobelo that includes hotel pickup and drop-off, and transport by air-conditioned minibus. Make the most of your time in Panama by exploring the Caribbean coast as a day trip, with 3-hours of beach time before returning to Panama City.
View Tour
$ 95
11 Hours
Day Trips
Free Cancellation
Paseo de 10 horas a una hermosa playa privada de arena clara y aguas cristalinas en Isla Grande en el mar Caribe panameño. El tour inicia cuando el guía le recoge en el hotel en Ciudad de Panamá para cruzar el itsmo de Panamá y dirigirse a la ciudad colonial fortificada de Portobelo.En Portobelo conocerá los detalles históricos de este importante puerto de la costa atlántica panameña durante el periodo colonial.El viaje continua hasta el puerto La Guaira donde tomaremos una lancha que nos llevará en un tranquilo recorrido para cruzar a Isla Grande donde tendrá acceso completo a una playa privada, baños y duchas.Podrá hacer un recorrido por la isla para observar las casas y tiendas de sus habitantes.Finalmente, luego de un día de disfrute en la playa, llega el momento de regresar a la Ciudad de Panamá, cuando la lancha nos recoja para ir al puerto y desde allí disfrute el camino de regreso al hotel.
View Tour