ShowingFilter 1-2 of 2 listings.
$ 98
10 Hours
Day Cruises
Hotel Pickup Offered
Free Cancellation
Swap the bustle of Guatemala City for the serene vistas of Lake Atitlan (Lake Atitlan) on this full-day tour, including hotel pick-up. Admire the trio of volcanoes that stand watch over the lake - Volcan San Pedro, Volcan Atitlan and Volcan Toliman - as you cruise across Lake Atitlan and explore the lakeside villages. Shop for handicrafts and unique souvenirs in lively Panajachel, tuck into a typical Guatemalan lunch at a local restaurant (own expense) and witness the culture and traditions of the Tzutujil people in Santiago de Atitlán.
View Tour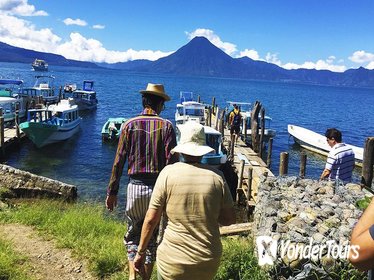 $ 90
11 Hours
Day Cruises
Hotel Pickup Offered
Free Cancellation
Delight in the scenic splendor of Lake Atitlán, and the charming villages that surround it, on a full-day trip from Antigua. Travel to Guatemala's western highlands to observe virtually unchanged Mayan traditions, and then sail on the glittering surface of Lake Atitlán. Absorb the vibrant colors of lakeside settlements, Panajachel and Santiago, and delve into the region's rich history with your guide. Lunch and round-trip transport from your Guatemala City hotel are included on this small-group tour, limited to 15 people.
View Tour