ShowingFilter 1-2 of 2 listings.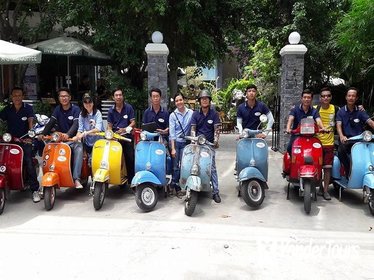 $ 78
4 Hours
4WD, ATV & Off-Road Tours
Hotel Pickup Offered
Free Cancellation
Take delight in sitting on the back of a Vespa scooter for a memorial ride through the scenic countryside of Hue. To learn about Vietnamese rural life, Vespa takes you on small country roads to the parts of Hue most visitors don't see such as immense rice paddies, village pagodas of Buddhism, lichen-covered chapels and communal houses. Come and see a peasant family to get to know about their life. You should not miss the Thanh Toan tile-roofed Bridge (16th century) which is a historic and cultural credit to the community.
View Tour
$ 35
7 Hours
Eco Tours
Hotel Pickup Offered
Free Cancellation
Spend seven hours exploring the village of Thuy Bieu on this eco tour that includes stops at a sidewalk cafe, historic home and a picturesque dragon boat ride on the Perfume River. You'll have the chance to relax with locals as you enjoy lunch in the home of a villager. This tour is the perfect way to see how people in rural Hue live.
View Tour