ShowingFilter 1-3 of 3 listings.
$ 65
9 Hours
Private Sightseeing Tours
Hotel Pickup Offered
Free Cancellation
Get an insider's look at the Balinese culture of Denpasar and the tourist hotspot of Kuta during this 9-hour excursion aboard a private chartered vehicle. Discover the unique musical traditions of Bali during a performance of the Barong and Keris Dance and visit the Bajra Sandhi Monument to learn about Bali's struggle for independence. You'll also explore Jagatnata Temple, the biggest Hindu site in Denpasar, and stop by the swinging beach scene and Discovery Mall in Kuta. A driver, private vehicle and round-trip hotel transport are included.Please Note: Price only includes car and driver. All entrance fees are to be paid directly on the day.
View Tour
$ 45
5 Hours
Private Sightseeing Tours
Hotel Pickup Offered
Free Cancellation
For a comprehensive cultural overview of Bali, embark on this private 5-hour tour of Denpasar, the provincial capital of the Indonesian island. In addition to the unique markets of Pasar Badung and Pasar Kimbasari, you'll visit the Bali Provincial State Museum to browse exhibits spanning centuries. Depending on availability, take a horse and cart through the city, admire local art at the Budaya Art Center, and pay your respects at the Bajra Sandhi monument. Hotel pickup and drop-off in numerous Bali locations are included.
View Tour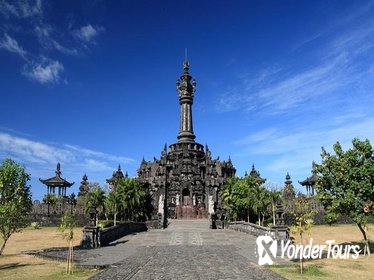 $ 75
10 Hours
City Tours
Hotel Pickup Offered
Free Cancellation
Discover the resplendent sights of Bali's capital city on a full-day tour of Denpasar led by a professional guide. Gaze at the majestic Bajra Sandhi Monument and enjoy panoramic city vistas from the top; delve into Denpasar's rich history at the Museum of Bali; and immerse yourself in the vibrant atmosphere of Badung Market. Visit the Uluwatu Temple to experience the magic of a Balinese dance and then conclude your tour with barbecue dinner overlooking the picturesque Jimbaran Bay. Round-trip transportation from your Denpasar hotel is included on this tour. 
View Tour