ShowingFilter 1-3 of 3 listings.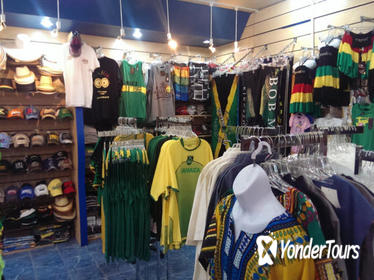 $ 10
4 Hours 30 Minutes
Shopping Tours
Free Cancellation
Finding the perfect souvenir can be a challenge if you're staying in Montego Bay and already trying to experience all the city has to offer. With this tour, visit souvenir shops, a shopping mall, the Hip Strip, and Margaritaville in just a few hours and get great deals on Jamaican coffee, rum, novelty items, and more. Plus, round-trip transportation from your hotel in an air-conditioned vehicle is included.
View Tour
$ 255
6 to 7 Hours
Shopping Tours
Hotel Pickup Offered
Free Cancellation
Enjoy the luxury of a private tour from Negril to Blue Hole in Ocho Rios.  This tour departs at 9:AM, you will be picked up from your hotel or villa in Negril in an air conditioned bus with a knowledgeable, safe and efficient driver.  Relax and comfortably enjoy the drive through Jamaica's picturesque coastlines as we journey through Montego Bay and Falmouth on our way to Blue Hole in Ocho Rios. The Blue Hole is located in the hill of Ocho Rios, also known as the "Secret Falls" is undoubtedly one of Jamaica's hidden treasures. Swing on the Tarzan rope, hike along the river, explore small caves, climb the waterfalls, cliff jump and more.  Blue Hole contains picturesque scenery - its lush blue color is off the hook! During our journey we will stop of one of our most popular restaurant for you to enjoy our cuisine and local fruits.
View Tour
$ 65
3 Hours
Shopping Tours
Hotel Pickup Offered
Free Cancellation
Escape the tourist track to discover Montego Bay's beautiful beaches, Reggae bars, and relaxed culture, all away from the crowds. With a dedicated guide and transport directly from your hotel, head into the hills above the town for panoramic views, then get personalized recommendations on the best beach clubs, shops, and restaurants in Montego Bay to customize your time in one of Jamaica's most popular destinations. 
View Tour