ShowingFilter 1-3 of 3 listings.
$ 63
7 Hours
Fishing Charters & Tours
Hotel Pickup Offered
Free Cancellation
Spend a day fishing and snorkeling off the coast of Koh Samui. Your expert captain takes you out to sea for a full-day tour, sussing out the best bays and island waters for the perfect catch. Reel in mackerel and additional Gulf of Thailand delicacies, then cook them up as part of an onboard barbecue. This charter tour includes complimentary soft drinks, beer for sale and round-trip hotel transport.
View Tour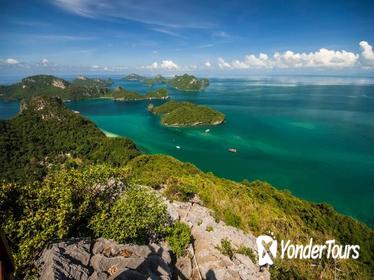 $ 63
9 Hours
Nature & Wildlife
Hotel Pickup Offered
Free Cancellation
Angthong, which means 'golden bowl' in Thai, contains a breathtaking panorama of limestone islands and lagoons inhabited by dolphins and other marine life. Ride a speedboat into Angthong National Marine Park during this day trip from Koh Samui. Your sightseeing cruise stops at islands for swimming, snorkeling and hiking with the option to upgrade for a kayaking adventure. Enjoy a provided buffet lunch and marvel at the Emerald Lake (Talay Nai).
View Tour
$ 36
7 Hours
4WD, ATV & Off-Road Tours
Hotel Pickup Offered
Free Cancellation
Mr. Ung's Just Jungle Safari.- BIG Jungle Green ex- army jeeps taking you for a fun tour over this beautiful island. See some great sights and then go up into the mountain to investigate the Thai Jungle. Lunch at the mountain top restaurant and cool drinks included. ITINERARYGrandfather grandmother rocksSwimming at the waterfallMummified monkZip line cable rides (2 lines 300 Baht extra pay at the ride) enjoyed by people from 8 years old right up to senior citizen ageJungle water slides (100 Baht extra pay at slide)4 Wheel drive up into the mountainsMagnificent mountain viewpoint stopsForest driveMountain farmsMountain peopleMountain top restaurant (Traditional Thai lunch, soft drinks and water)Buddha's magic gardenRubber plantation - rubber tapping demoMountain peakDescend the mountainBig BuddhaNo animals in Captivity.
View Tour
About Koh Samui
Koh Samui is the second-largest island in Thailand. Most travelers come to the island for its world-famous stunning beaches, tropical jungle, attractive waterfalls, palm trees, pristine waters, and the interesting Hin Ta and Hin Yai Rocks. The most popular beaches are Chaweng and Lamai, while the northern beaches such as Mae Nam, Bophut, Choeng Mon, and Bang Rak are much more secluded. There are also small beautiful islands around Koh Samui that offer charming views.
Until the late 20th century, Koh Samui was isolated from the rest of Thailand. In the early 1970s, the island did not have any roads and only had a few bungalows. It was once a fishing community and a backpacker's paradise. Backpackers used to travel on the back of coconut boats and in the 1990s, travelers started arriving on Tour and ferry ships which helped the place grow significantly. Now, Koh Samui has become one of the most popular island destinations within Thailand.
The Basics
The island has something for everyone as it is the perfect destination for outdoor enthusiasts who crave a little adventure. Whether you want to bask in the sunshine, feast on a cruise, lounge on the white sand, hide away in an exclusive spa, or party by the beach, you can avail of a selection of tours in Koh Samui. Take a 6-hour tour to see the best landmarks of the island including The Golden Big Buddha Temple, Lod Koh Viewpoint, Coconut plantation, and much more. Of course, travelers can spend the day on the beach, but if you want to have something a bit more exhilarating, you should take an eco-jungle safari tour. This tour lets you venture into the jungle on a Jeep Safari. When you are done exploring the jungle, you can swim beneath the Namuang waterfall to cool down.
Hop onto a boat and enjoy a full-day guided tour of the Ang Thong Islands, the tour will take you to exotic islands such as Moe Koh. You can also swim or dive into the crystal clear waters and sometimes you can find whales, dolphins, and otters in the shallow waters. If you wish to travel luxuriously, you can try a full-day catamaran charter with VIP treatment and a personal chef. Looking at the blue water can be very inviting, if you're curious of what's under the surface, diving and snorkeling tours are available and all tours are guided by certified divers to ensure your safety.
What You Need to Know Before You Go
Boat tours have a range of boats, from traditional longtail boat, speedboat, to luxurious yachts.


Everyone can enjoy Koh Samui since the prices here are more affordable compared to Phuket.


Pack lightweight and modest clothing. The temperature can be really high but avoid wearing revealing clothes. Thai people are modest, make sure to respect their culture.


Do not forget to bring sunscreen, bug or mosquitoes repellent, sunglass, and hat to avoid sunburn.



While vaccination is not required to visit Koh Samui, it is always nice to be safe. Discuss with your doctor about travel vaccinations four to six weeks before your journey, vaccinations to consider are diphtheria, hepatitis B, rabies, tetanus, and typhoid.
When to Get to Koh Samui
Koh Samui is pleasantly warm and humid throughout the year. The weather pattern is slightly different from other parts of Thailand. If you want to enjoy a lot of sun, then December to April is the best time to visit. These months have great weather with little rain and plenty of sun. September can be sunny, but you will experience some brief rain showers in the afternoon or night. It is best to avoid October and November because these months are the rainiest. High season on the island is from late December, January, July, and August.
How to Get There
The main airport is Samui International Airport and the airport mainly serves domestic flights but there are also some international flights to Singapore, Malaysia, and China. Architectural speaking the Airport building is a gorgeous design. There are over twenty flights a day from Bangkok to the island and Bangkok Airways operates flights every 30 minutes. To get to the island from the sea, you can take a ferry service from Donsak Pier and note that ferry times can change frequently and long waits are quite common. It takes around 11 hours to get to Koh Samui from the capital city of Bangkok.
There are several public transportations options available, such as tuk-tuks and songthaew. Tuk-tuks can take travelers to narrow streets and are very affordable. A songthaew is a nice option but be aware that some songthaew only follows the drivers' preferred route instead of the designated one. Taxis are not licensed or meters and there are many types of taxis in the city, you can choose between passenger cars and mini-vans.
Most Popular Tour

Koh Samui Brunch and Snorkeling Cruise
Sail on a beautiful traditional yacht with your friends or family and explore hidden beaches and the picturesque clear blue waters. You can snorkel the blue waters around the hidden caves of Koh Phangan and be amazed by the fascinating marine life. After which, you can also enjoy a brunch filled with mouthwatering Thai dishes while basking in the sunshine.

Full-Day Marine Park Discovery Cruise from Koh Samui
Discover the beautiful Ang Thong National Marine Park where you will find uninhabited islands, sky-high limestone cliffs, amazing white-sand beaches, and hidden caves. The 42 uninhabited islands are an adventurer's paradise. Swim in lagoons and stroll along the shore and when you are done exploring, you will sail back with the sun setting on the horizon.

Eco-Jungle Safari Tour around Koh Samui
When you are done relaxing by the beach, you should explore the jungle on a thrilling Jeep safari where you will visit the Magic Buddha Garden and visit a traditional rubber plantation. You can swim underneath the Naumang waterfall to cool off or play on the water slides and then enjoy a delightful Thai-style lunch with a mountain view.