ShowingFilter 1-2 of 2 listings.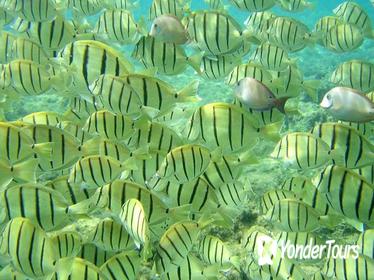 $ 40
2 Hours
Snorkeling
Free Cancellation
Embark on a relaxing snorkeling and sightseeing adventure along Los Cabos. Set out upon the stunning Sea of Cortez for Pelican Rock, where you'll snorkel and swim among scores of colorful tropical fish, exquisite coral formations and sea turtles. Spend some time lounging on the beach before enjoying a boat tour past some of southern Baja's top natural attractions - including Lovers Beach, El Arco, and a colony of playful and often curious sea lions.
View Tour
$ 129
3 Hours
Scuba Diving
Free Cancellation
Mingle with tropical fish and curious marine mammals in the waters off Cabo San Lucas. This 2 tank scuba adventure lets you choose between two customized dives: perfect for beginners, the Sea Lion Colony dive dips 70-feet below the sea's surface in search of sea turtles, sea lions and eels. The more advanced Sand Falls dive descends 120-feet. The waters surrounding this unique cascading wall of sand are home to octopus, angelfish, seahorses and more.
View Tour