ShowingFilter 1-3 of 3 listings.
$ 44
The Enchanted Adventure Garden - an adventure park with mazes, slides, and treetop ziplines - is located on the Mornington Peninsula roughly an hour's drive from Melbourne. This zipline canopy walk at the adventure garden is ideal for travelers who are near Melbourne and want to take part in an organized outdoor challenge. You're granted two hours to complete five aerial courses with more than 50 individual challenges.
View Tour
$ 22
1 Day
Attraction Tickets
Free Cancellation
Discover the fun-filled attractions at the Enchanted Adventure Garden in Arthur's Seat, located on the Mornington Peninsula, a scenic one-hour drive from Melbourne. Discover 22 acres of gardens and games that you can explore with your admission ticket. You can make your way through five hedge mazes and a labyrinth, ride through giant tube slides, meander into 20 different gardens. Follow a boardwalk through the treetops of an old eucalyptus forest, or upgrade to add tree-surfing, which consists of a ropes course and ziplines.
View Tour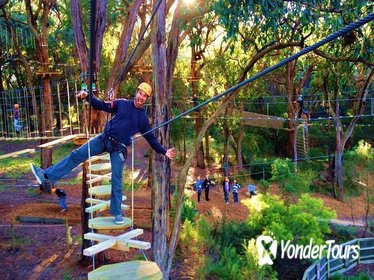 $ 135
10 Hours
Day Trips
Hotel Pickup Offered
Free Cancellation
Entertain the whole family with an adventure-filled morning at the Enchanted Adventure Garden, then explore the highlights of the famous Mornington Peninsula on this full-day tour. Tackle the 2-hour course complete with ziplines, suspension bridges and tube slides, then journey to Arthur's Seat to admire the views and finish with a visit to a strawberry farm or prestigious winery (depending on the season). This action-packed tour includes hotel pick-up and drop-off from Melbourne.
View Tour