ShowingFilter 1-2 of 2 listings.
$ 109
6 Hours
Private Day Trips
Hotel Pickup Offered
Enjoy a quiet retreat from the city on this private 6-hour tour from Phnom Penh to Koh Dach, a tiny island marooned on the Mekong River. After a scenic 1.5-hour ferry cruise, get a taste of island life as you meet with monks at the Wat Chung Koh temple and tuck into a typical Khmer lunch (included). Finally, discover the island's famous hand-loomed silks and visit the artisan workshops to try your hand at spinning silk.
View Tour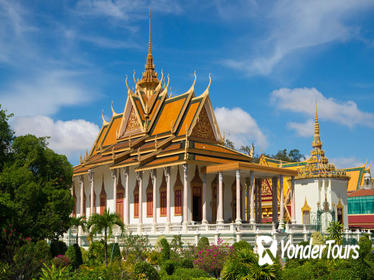 $ 74
10 Hours
Private Day Trips
Hotel Pickup Offered
Spend a full day on a private tour of Phnom Penh City, including a stop at the Silver Pagoda, and bare witness to the architecture and culture of Cambodia's rich traditions. Spend the morning at the Silver Pagoda and National Museum before enjoying a savory Cambodian lunch. Then pay a visit to Tuol Sleng Museum, where you'll learn about the Pol Pot and Khmer Rouge regime. 
View Tour