ShowingFilter 1-3 of 3 listings.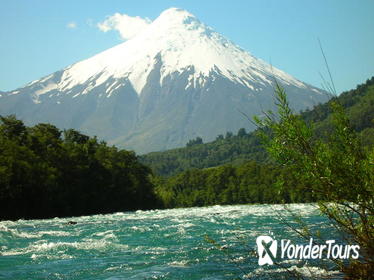 $ 40
4 Hours
Half-day Tours
Hotel Pickup Offered
Free Cancellation
Soak up the scenery of Chile's Lake District on this 4-hour small-group tour to Osorno Volcano from Puerto Montt, including hotel pick-up. Enjoy a thrilling drive to the Osorno Ski Center, located at a height of 3937 feet (1,240 meters), and enjoy glorious panoramic views of Llanquihue Lake and Calbuco Volcano below. If that's not high enough, you can also opt to ride the chairlift (extra cost) to the Station Primavera or Station Glaciar.
View Tour
$ 47
10 Hours
Full-day Tours
Hotel Pickup Offered
Free Cancellation
Visit an active volcano and other natural highlights of Southern Chile. Begin on the southern shores of Lake Llanquihue and enter Vicente P erez Rosales National Park. Marvel at the turquoise waters of the Petrohu e Waterfalls and the tranquil beaches surrounding Lake Todos los Santos. Lunch in Ensenada at the foot of the Osorno Volcano. Travel up the volcano to a ski resort for striking views of the Petrohu e River Valley.
View Tour
$ 40
4 Hours
City Tours
Hotel Pickup Offered
Free Cancellation
Enjoy a scenic drive along the famous Pan-American Highway on this 4-hour tour of Chile's Lake District, passing natural wonders like Osorno Volcano and Llanquihue Lake. Start your tour in the regional capital of Puerto Montt, where you can view the Memorial to the German Colonists, shop for traditional handicrafts along Angelmó Avenue and stroll the beaches of Pelluco. Then, head to Puerto Varas, the 'City of Roses', to stroll the idyllic Phillipi Park and admire the beautiful Puerto Varas Cathedral.
View Tour