ShowingFilter 1-2 of 2 listings.
$ 91
7 Hours
Nature & Wildlife
Hotel Pickup Offered
Free Cancellation
Travel on a comfortable bus from downtown San Diego to San Diego Zoo Safari Park. You have admission to the 1,800-acre San Diego Zoo Safari Park for an exciting safari adventure on the outskirts of San Diego. Modeled on the African Serengeti and the vast expanse of the Asian plains, the San Diego Zoo Safari Park is home to more than 3,500 rare and exotic animals. The complimentary tram offers a 30-minute tour that takes you close to exotic animals including elephants and zebras.
View Tour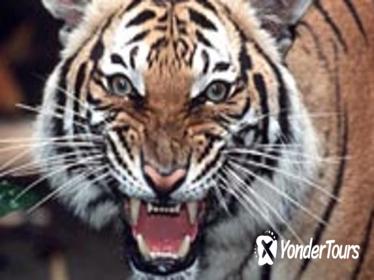 $ 90
No scheduled
Nature & Wildlife
Free Cancellation
View more than 4,000 animals roaming in large enclosures on a 2-day visit to the San Diego Zoo and San Diego Zoo Safari Park. This admission ticket allows you to spend 2 days at the Zoo, or split your time between the Zoo and the Safari Park. At the zoo, see the diverse collection of animals, many of which are not present at other zoos in the United States. The Safari Park is inspired by the Serengeti Plains in Africa and the Asian plains and is home to lions, tigers, zebras, which you can see from the a 32-acre (13-hectare) safari trail. Access to all shows and exhibits, as well as use of all the in-park transportation, are included. With mobile tickets, simply scan your phone for direct entry into the San Diego Zoo and Safari Park.
View Tour