ShowingFilter 1-2 of 2 listings.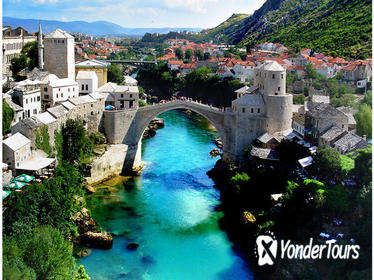 $ 289
2 Days
Multi-day Tours
Hotel Pickup Offered
Get an in-depth exploration of Mostar and the surrounding areas with ease on this 3-day private tour. Meet your guide and depart from the airport in Sarajevo, Dubrovnik, or Split in an air-conditioned minivan and make your way to Mostar. Stay in Mostar's Old Town and spend time exploring the city with your guide. Visit Medjugorje, Buna Spring, Blagaj Tekke, and Kravice Waterfalls.
View Tour
$ 878
4 Days
Multi-day Tours
Hotel Pickup Offered
Bosnia and Herzegovina is renowned for its stunning natural landscapes, UNESCO-listed monuments, and historic towns. This multi-day tour takes in all the highlights including the Old Town of Mostar, Blagaj Tekija monastery, Kravice Waterfalls, and the Meā'ugorje pilgrimage site. After taking in the sights, choose to spend a day white-water rafting along the Neretva River or hop over to neighboring Croatia to visit Dubrovnik and Split.
View Tour