ShowingFilter 1-2 of 2 listings.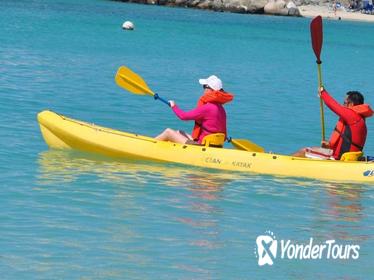 $ 51
2 Hours 30 Minutes
Kayaking & Canoeing
Free Cancellation
Kayak and snorkel in St Maarten's Simpson Bay during a leisurely, 2.5-hour eco-adventure. This slow-paced excursion is a suitable option for beginner snorkelers and kayakers. Follow your adventure guide on 45 minutes of snorkeling and 40 minutes of kayaking, with plenty of breaks and instruction. Get a clear view of the island's underwater environment, including live coral and species such as parrot fish, trumpet fish and tang. Finish up with a refreshment at a beachside restaurant and a group discussion of the marine life you witnessed. Use of all equipment is included.
View Tour
$ 59
2 Hours
Kayaking & Canoeing
Free Cancellation
Explore the extensive mangrove forests of St. Maarten on this 2-hour kayak tour from Galion Beach. Paddle across the pristine turquoise waters to discover the diverse ecosystem of the region with various plant and animal species including iguanas, egrets, and herons. Enjoy a peaceful day out on the water surrounded by nothing but nature.
View Tour