ShowingFilter 1-5 of 5 listings.
$ 78
8 Hours
Vespa, Scooter & Moped Tours
Free Cancellation
An easy and relaxed full day Scooter tour taking in breathtaking views from spectacular Viewpoints and visiting the lesser known and less commercial beaches that the South West of Phuket Island has to offer. Enjoy Kayaking from Yanui beach to Koh Man or spend some time Snorkeling around the rocky outcrops. Activities, Lunch and refreshments are included. Approx. 8 hour durationOptions; Scooter (1 Person) Scooter (2 People) "" *Book for 1 Person only and choose this option Scooter (Ride Pillion (Passenger)) Tuk-Tuk (4 People) "" *Book for 1 Person only and choose this option
View Tour
$ 63
8 Hours
Day Trips
Hotel Pickup Offered
Free Cancellation
Make the most of your time at Coral and Raya islands on this tour via speedboat. Unlike tours via slower traditional boats, this fast speedboat tour can reach the pristine Coral Island in just 10 minutes. Once there, enjoy exploring the island's reefs and white sand beaches at your leisure. Access to water sports such as snorkeling and parasailing, with all equipment and instruction, included.
View Tour
$ 47
4 Hours
Vespa, Scooter & Moped Tours
Free Cancellation
An easy half day Scooter sightseeing tour taking in the best of the South - Plenty of photo opportunities around each corner. Departing from Karon Beach and lasting approx. 4 hours you will get to see how wonderful the South of the Island is. Options; Scooter (1 Person) Scooter (2 People) "" *Book for 1 Person only and choose this option Scooter (Ride Pillion (Passenger)) Tuk-Tuk (4 People) "" *Book for 1 Person only and choose this option
View Tour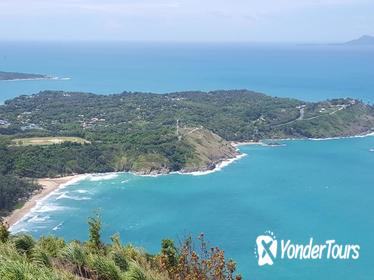 $ 314
8 Hours
Cultural Tours
Free Cancellation
An easy and relaxed full day Tuk-Tuk tour taking in breathtaking views from spectacular Viewpoints and visiting the lesser known and less commercial beaches that the South West of Phuket Island has to offer. Spend some beach time on one of Phuket's best rated beaches. Enjoy Kayaking from Yanui beach to Koh Man or spend some time Snorkeling around the rocky outcrops. Top this all off with a longtail boat trip from Rawai to a nearby Island that boasts a Buddhist Monastery.Activities, Lunch and refreshments are included. Approx. 8 hour duration Options; Tuk-Tuk (4 People) "" *Book for 1 Person only and choose this option
View Tour
$ 141
4 Hours
Cultural Tours
Free Cancellation
An easy half day Tuk-Tuk sightseeing tour taking in the best of the South - Plenty of photo opportunities around each corner. Departing from Karon Beach and lasting approx. 4 hours you will get to see how wonderful the South of the Island is. Options; Tuk-Tuk (4 People) "" *Book for 1 Person only and choose this option
View Tour