Choose from 3 Fun Things to Do in Fajardo
ShowingFilter 1-3 of 3 listings.
This protected park in the far reaches of Puerto Rico is home to the Laguna Grande bioluminescent bay, rainforests, walking trails, boardwalks and a wide array of flora and fauna. The reserve, which showcases some of the best—and most diverse—of Puerto Rico's natural wonder covers just 316 acres but includes seven different ecological systems, making it a true wonderland for travelers looking to explore the outdoors.
Visitors will find giant iguanas, crawling crabs and a variety of colorful birds here, in addition to the oldest lighthouse on the island, El Faro de las Cabezas de San Juan. Whether travelers wander over rocky cliffs, or wind through a few miles of easy trails and boardwalks, they will find some of the most spectacular natural scenery on the island at Las Cabezas.
Practical Info
Las Cabezas de San Juan Reserve is located at the northeastern tip of Puerto Rico in Fajardo. Entry fee is $12 for adults and $9 for children. Reservations are needed and can be made on the park's website. Tours are available and last approximately two hours. English tours take place Wednesday through Sunday at 1:30 p.m. only. 
Address:
Reserva Natural de las Cabezas de San Juan, San Juan, Puerto Rico
Admission:
$12 for adults and $9 for children
By daylight, Fajardo's bioluminescent lagoon appears just as scenic as any other bay on the tropical Puerto Rican coastline. But come nightfall, the Laguna Grande bio bay glows fluorescent with every movement and splash, thanks to the presence of microscopic plankton that thrive in the shallow Caribbean waters. Read on to learn how to take your own memorable Bio Bay tour.
The Basics
Bio bay tours allow visitors the chance to set the water aglow and create a trail of light with every stroke of a kayak paddle. To see the bioluminescence, night trips are offered around the cycles of the moon, with ideal timing on the darkest nights. These guided kayak tours are available departing from San Juan or Luquillo, which is only nine miles (15 kilometers) away. It's common to couple kayaking with an afternoon nature walk to La Mina Falls in the nearby El Yunque National Forest.
What to Expect When Visiting the Bioluminescent Bay
Bio bay kayaking trips frequently set out in the early evening around sunset, launching from Las Croabas with a tour guide or instructor. These kayak tours travel through a dense collection of mangrove trees under a total canopy of darkness, and once you're out of the mangrove tunnel, the stars above provide the only light by which to view the glowing waters, where the tips of your paddles will slowly begin to glow as they strike the liquid surface. There's no swimming in the bay during this popular Puerto Rico vacation activity, but it's easy to pass your hand through the water over the side of your kayak.
How to Get There
Laguna Grande is located in the Las Cabezas de San Juan Nature Reserve just off the shores of Fajardo, about 40 miles (65 kilometers) or an hour's drive east of Old San Juan, a major tour departure point.

Why Does the Bio Bay Glow?
Although the glowing water often gives visitors a magical feeling, this spectacular natural wonder is actually caused by pyrodinium bahamense, single-celled organisms that glow when disturbed. The bay is surrounded by red mangrove trees, native to the surrounding El Yunque rainforest, that provide vitamin B12 to the marine plankton and create the perfect environment for their survival. There are only a handful of places in the world where this natural phenomenon is consistently found, two others of which are also on Puerto Rico, the Island of Enchantment: at Mosquito Bay on Vieques Island and the bay at La Parguera. 
Address:
Laguna Grande, Fajardo, Puerto Rico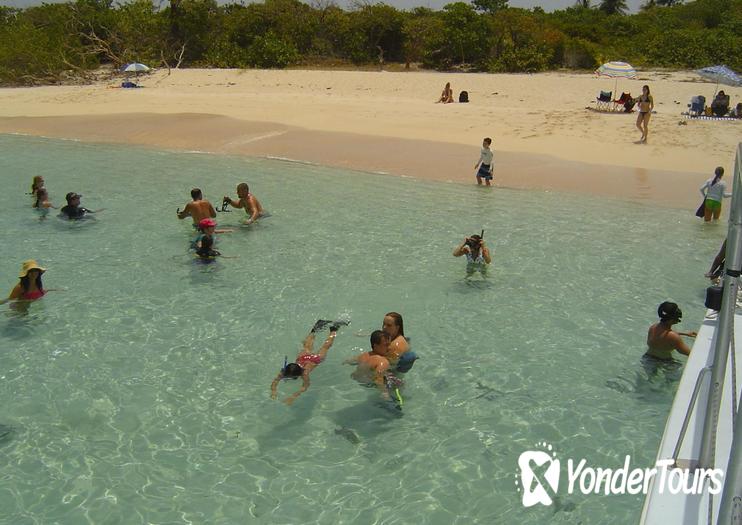 A small, uninhabited island located just a 15-minute boat ride from the Puerto Rican town of Fajardo, Cayo Icacos is part of Cordillera Keys Nature Reserve (Reserva Natural los Cayos de la Cordillera). Its white-sand shores, pristine waters, and colorful reefs make it a popular day-trip destination for snorkeling and diving. 
The Basics
A white sand beach rings a forested grove at the center of the tiny island, where waves and wind are almost the only sounds. Offshore, schools of colorful tropical fish inhabit a system of coral reefs. Snorkeling cruises to Cayo Icacos are a popular option for mainland visitors, and boat tours typically leave from Fajardo or even San Juan. Motor boat and catamaran cruises allow you to swim from the safety of the ship's deck, explore the colorful reef below, and go ashore to stroll along the beach and visit the green center of the island. It's also possible to visit Icacos as part of an island-hopping tour. 
Things to Know Before You Go
Cayo Icacos is a must-see for nature lovers.

Aside from palm trees, there is no shade on the island; visitors should bring sun protection.

Booking a tour ensures you'll have access to restrooms and water on board the tour boat, as there are no amenities on the island. 

Visitors who book a simple water-taxi excursion will need to bring their own snorkeling gear; on guided tours, gear is typically included.

How to Get There
Cayo Icacos is a 15-minute boat ride from the port at Las Croabas in Fajardo. Catamaran cruises typically depart from Fajardo Marina, which is located roughly 90 minutes by road from San Juan.
When to Get There
Travelers who book a private tour can schedule for earlier in the morning, before other groups arrive. You can visit Cayo Icacos year-round, but weather in this part of Puerto Rico is best from December through April. The hurricane season typically last from June through November. 
Snorkeling at Cayo Icacos
Walk-in snorkeling is possible off any of the beaches at Cayo Icacos, but the four best spots are off the popular beaches on the west side of the island. The area's healthy coral reef is home to creatures such as blue tang, parrotfish, snapper, stingrays, and sea turtles.
Address:
Cayo Icacos, Fajardo 00738, Puerto Rico