Choose from 7 Fun Things to Do in Whistler
ShowingFilter 1-7 of 7 listings.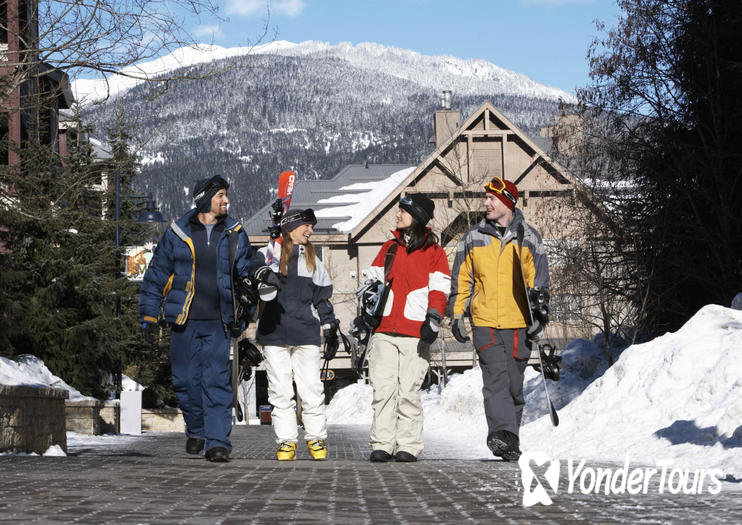 Depending on the season, Whistler Village is either located at the base of North America's biggest ski resort or mountain bike park. No matter the season, it's the heart of Whistler, British Columbia, and it's bustling with people looking to enjoy the area's vibrant mountain culture. 
Built around a pedestrian street called the Village Stroll, Whistler Village is bookended by a pair of public squares. Skiers Plaza, from which both the Whistler and Blackcomb gondolas depart, doubles as an outdoor sound stage during the World Ski and Snowboard Festival, transforms into a spectator-friendly finishing area for the gravity defying Crankworx Festival and acts as a general meeting point for locals setting out for a night on the town. The Olympic rings still stand in Olympic Plaza, which lies on the opposite end of the village, where medal ceremonies for all Whistler-based sports during the 2010 Vancouver Winter Olympics took place. 
Between the two plazas, patio restaurants and cafes are mixed intermittently with shops selling the latest fashions in both haute couture and high mountain culture. Hotels are mixed in, too, making it easy to stay close to the resort's famous nightlife; after dark, Whistler Village's party scene comes to life and a number of pumping nightclubs and ski-town pubs keep their doors open until the wee hours of morning.
Practical Info
Whistler, British Columbia is located 147 km north of the Vancouver International Airport on the Sea-to-Sky Highway. Public transport is available with the Perimeter Express, YVR Whistler SkyLynx shuttle and Whistler Limousine.
Address:
Whistler, British Columbia, Canada
British Columbia's Callaghan Valley is a noted backcountry recreation area, so much so that it was home to the 2010 Winter Olympics for biathlon, cross-country skiing, ski jumping, and Nordic skiing. Though the provincial park is famous mainly for winter sports (the average annual snowpack can yield up to 150 days of skiing), the area is just as gorgeous in the summertime. Callaghan Lake is one of the most beautiful and convenient places to camp near Whistler, and the relatively undisturbed wilderness and rugged mountain terrain provide a stunning backdrop to outdoor adventures at any time of the year. Hanging valleys, talus slopes, and waterfalls are just some of the natural sights the park has to offer.
Canoeing, fishing, boating, and hunting go hand-in-hand with rustic lakeside camping and hiking around the numerous wetlands and small lakes found throughout the park (especially in the southern and eastern areas). The main camping area at Callaghan Lake is quite nice, but for a really spectacular place to pitch your tent, try checking out one of the little islands in the lake that can only be accessed by canoe or boat. Boat launches, campfires, picnic areas, toilets, and vehicle-accessible camping are all available at the park.
Practical Info
The park is easily accessed in summer from Highway 99, 43 miles (70 km) north of Vancouver or 12 miles (20 km) south of Whistler. Turn north off the highway onto the paved Callaghan Valley Road for 5 miles (8 km), then turn left following a rough, gravel Forest Service road (Callaghan FSR 01) for another 5 miles (8 km). High-clearance vehicles are recommended. The Forest Service road is not plowed in winter and instead becomes a groomed cross-country ski trail. The closest community, town or city is Whistler, approximately 12 miles (20 km) away. There are no garbage facilities, so always pack out what you pack in. 
Address:
Whistler, British Columbia, Canada
North America's major ski resort focuses on Whistler and Blackcomb mountains, attracting up to two million winter and summertime visitors a year.
Linked by the groundbreaking Peak 2 Peak Gondola, the two mountains peer over the pretty alpine town of Whistler Village.
The official skiing venue for the 2010 Olympic winter games, the Whistler and Blackcomb resorts merged in 1997 and together have a total of 38 ski lifts and more than 200 ski runs.
In summer the ski runs transform into mountain-bike trails for nail-biting thrills, and the alpine meadows are crossed by hikers and nature lovers.
Practical Info
The Whistler-Blackcomb resort is a two-hour drive north from Vancouver, a distance of 115 km (70 miles).
One of the most scenic ways to travel to Whistler is aboard the Sea to Sky Climb train, a stupendous three-hour rail journey from Vancouver.
Whistler Mountain measures 2,182 meters (7,160 feet), while Blackcomb is 2,284 meters (7,349 feet). The longest ski run zooms for 11 km (7 miles).
Address:
Blackcomb Way, Whistler BC V0N 1B4, Canada
Located in the Callaghan Valley, the 141-foot Alexander Falls make for a beautiful day trip destination from Whistler Village. Just be sure to bring a picnic, as it's a favorite lunch spot for locals and visitors alike. Picnic tables are surrounded by thick forest, and the crashing waterfall adds atmosphere to this wilderness setting that makes it easy to forget it's only 30 minutes back to the hustle of a major tourist resort.
Alexander Falls is only minutes from Whistler Olympic Park and its cross-country ski trails, built for the Vancouver 2010 Winter Olympics, which are open throughout the winter. In the summer, the trails double as walking paths and bike trails. Hiking trails that lead further into Callaghan Valley Provincial Park offer access to more pristine nature, while campsites at Callaghan and Madeley Lake provide a beautiful"" and absolutely free""place to spend the night. 
The Callaghan Valley access road is one of the best places to spot wildlife in the Whistler area, too, including both black and grizzly bears.
Practical Info
Alexander Falls is located 30 minutes south of Whistler Village and just minutes from Whistler Olympic Park, where the 2010 Winter Olympic ski jumping and cross-country skiing events took place.
Address:
Whistler, BC, Canada The FireRock Lounge, located in Whistler Westin Resort, uses all sorts of unexpected furnishings such as hickory sticks, river rocks and raw logs to create an intimate atmosphere right at the base of North America's largest ski resort. And just as its name suggests, there is a massive stone fireplace right at the heart of the restaurant.
Whether it's kobe beef sliders or a charcuterie and cheese platter, the menu choices bring the lounge's intimate atmosphere right onto the table; more than half of the food items are recommended to share. Traditional menu items like burgers are given a gourmet twist, with choices like the West Coast, line-caught Coho salmon burger and the more unexpected Korean barbecue sauce-laden Brisket burger. 
Even with its focus on creating a cozy atmosphere, the FireRock Lounge doesn't ignore the visiting sports fan. TV screens around the bar show everything from the latest happenings on the NHL ice (this is Canada, after all) to the ESPN X-Games.
Practical Info
The FireRock Lounge is open daily, from 11 a.m. to 1 a.m. It is located in the Whistler Westin Resort, which is just a few steps from Skiers Plaza. Reservations are not typically required.
Address:
4091 Whistler Way, Whistler, BC V0N, Canada
Full of ancient forest and surrounded by Pacific Coastal mountains 56 miles (90 km) north of Vancouver, Callaghan Valley is real BC backcountry. In summer, the valley is home to backpackers and hikers looking for a wilderness experience, while in winter, cross-country skiing and snowshoeing is popular,  with over 45 miles (70 km) of cross-country trails and six miles (10 km) of snowshoe trails to explore.
Home to the 2010 Winter Olympics' Nordic events, the wall of mountains that surrounds the valley creates a unique climate that sees some of the deepest snowfall in the whole of Canada. The ski season is often 150 days long, running right into mid-April.
In spring and summer, Callaghan Valley is all wildflower meadows and wetlands, where you can go lakeside camping, canoeing, boating, fishing and hiking. The 6,590-acre (2,667-hectare) park is also prime wildlife-spotting territory. Look out for bobcats and squirrels, black-tailed deer and moose, black and grizzly bears.
Practical Info
Forty-four miles (70 km) north of Vancouver and 12 miles (20 km) south of Whistler on Highway 99, Callaghan Valley is best reached by car, shuttle or taxi ($40 one way ) from Whistler, which is the closest town to the valley. 
Address:
British Columbia V0N 1B1, Canada
Garibaldi Park is a wilderness area located just north of Vancouver, between the outdoor-minded towns of Squamish and Whistler, British Columbia. The most famous image of the entire BC provincial park is Black Tusk, a stunning pinnacle of volcanic rock that juts skyward and is easily seen from the top of Whistler's Peak Chairlift, but there are plenty of other beautiful locations worth exploring within the park.
The 7.5-mile (12-kilometer) hike to Elfin Lakes, which begins just north of Squamish at the park's southern boundary, is considered a must-do overnight by locals because of the stunning views of Mt Garibaldi and the unbelievably scenic campsite at the lakes themselves. Closer to Whistler, both the Cheakamus Lakes and Singing Pass areas are home to hikes that explore the stunning yet rugged coastal mountain landscapes. For ambitious hikers looking to put in a long day, rather than an overnight, it's possible to ride Whistler's Gondola and Peak Chair to the summit of Whistler Mountain and access the Singing Pass trail via an Alpine Route before descending along Fitzsimmons Creek to Whistler Village.
The park's northernmost access point, the Wedgemont Lakes area, requires a 4x4 vehicle due to its location at the tail end of an un-maintained forestry road. Visitors with the proper vehicle and a sense of adventure will most likely have this area to themselves; it's the least frequented part of Garibaldi Park. 
Practical Info
Garibaldi Park is located 44 miles (70 km) north of Vancouver. It's on the east side of the Sea to Sky Highway, between Whistler and Squamish. There are five typical access points: Diamond Head, Black Tusk, Cheakamus Lake, Singing Pass and Wedgemont Lake (listed south to north).
Address:
Fraser Valley C, BC, Canada
Admission:
Camping fees vary