ShowingFilter 1-3 of 3 listings.
$ 255
9 Hours
Cultural Tours
Hotel Pickup Offered
Free Cancellation
Explore the city of Izmir with ease on this guided tour. Travel on foot, in an air-conditioned van, and by ferry to reach the highlights of the city, including the Kordonboyu promenade, Republic Square, Konak Square, The Clock Tower, Kemeralti and the bazaar at Karsiyaka. Learn about the history of Izmir from your guide. Enjoy a midday lunch.
View Tour
$ 299
4 Hours
City Tours
Free Cancellation
Maximise your time in port in Izmir with a private 4-hour tour that checks off all the highlights. Marvel at the ancient Roman Agora, learn more about Izmir's fascinating past at the Izmir Archaeological Museum, see city landmarks such as the Clock Tower, and browse the colorful stalls at the Kemeralti Bazaar.
View Tour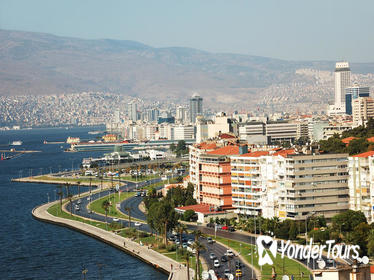 $ 67
3 Hours
Private Sightseeing Tours
Hotel Pickup Offered
Free Cancellation
Experience architectural elegance and the arts during this privately guided sightseeing tour in Izmir. During this tour visit beautiful monuments such as the castle of Alexander the Great, the Archaeological and Ethnographic Museum and Izmir's symbolic 98-year old Clock Tower. Top off the day with memorable views from atop Pagos Hill.
View Tour