ShowingFilter 1-3 of 3 listings.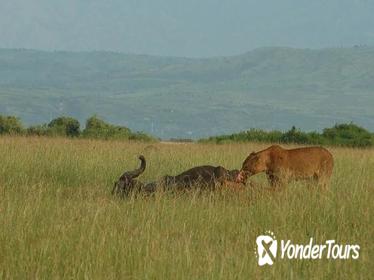 $ 2,700
7 Days
Multi-day Tours
Hotel Pickup Offered
This is a great Ugandan adventure safari that explores the best areas with a lot of sight see during the entire safari. You will visit Entebbe via Kampala, Murchison Falls, Kibale Forest, Kanyanchu Tourist Center, Queen Elizabeth, Bwindi Gorillas, Equator Via Kampala and back to Entebbe.
View Tour
$ 7,353
This Classic Primate tour combines the safari highlights of Uganda such as the exciting chimpanzee tracking in the African rain forests of Kibale National Park, with an optional full day chimpanzee habituation experience, impressive Game drives in the vast African Savannah plains of Queen Elizabeth National Park and of course the unforgettable gorilla trekking in the Bwindi Impenetrable Forest National Park. This safari also gives you an opportunity to join our "voluntourism program" and spare two days on your safari to serve in the community.
View Tour
$ 4,727
The Rwenzoris, or the "Mountains of the Moon", have a celebrated beauty. Shrouded almost perpetually in mist, they have a seducing, eerie quality that led to many wondrous tales about them through the ages.Rwenzori is known primarily for its challenging hiking and climbing possibility with a unique among East African Mountains. Rwenzori is not Volcanic in Origin, but it rises directly from the Rift valley floor. Its range also supports a diversity of animals including mammals and about 177 bird species, with several being Albertine Rift Endemics. It's the highest mountain range in Africa, with its Loftiest peaks, Margherita (5,109m) and Alexandra (5083m) on Mount Stanley, are exceeded in altitude elsewhere in Africa only by Kilimanjaro and Mt. Kenya.
View Tour