ShowingFilter 1-3 of 3 listings.
$ 10
1 to 4 Hours
Attraction Tickets
Free Cancellation
Secure your entry to Punta del Este's top cultural attraction by booking your admission ticket for Casapueblo in advance. Formerly the summer home of Uruguayan artist Carlos Páez Vilaró, the residence is now a museum, art gallery, hotel, and cafe. Spend the afternoon drinking in exhibits dedicated to the artist and don't miss the Ceremony of the Sun, a poetic performance delivered minutes before sunset.
View Tour
$ 32
4 Hours
Half-day Tours
Hotel Pickup Offered
Free Cancellation
Enjoy a half-day sightseeing tour of Punta del Este with an informative guide - a great way to see the highlights of this scenic resort area. Marvel at the whimsical fingerlike sculptures of Playa Brava; stroll past sailing yachts along the coastal seaport; spend free time browsing the shops and galleries of Gorlero Avenue and Artigas Square; and admire the Mediterranean-style villa of Casapueblo.
View Tour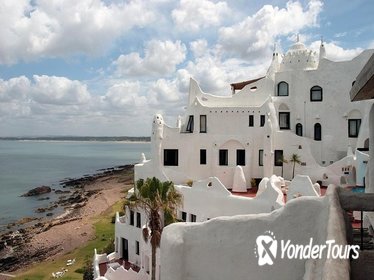 $ 48
10 Hours
Day Trips
Hotel Pickup Offered
Free Cancellation
Swap the Uruguayan capital for the coastal resort town of Punta del Este. This guided day trip from Montevideo covers main attractions including the Mediterranean-style villa and art gallery of Casa Pueblo. See the fishing town of La Barra del Maldonado, and visit Playa Mansa and Playa Brava, known for its famous sculpture of fingers emerging from the sand.
View Tour