ShowingFilter 1-3 of 3 listings.
$ 60
2 Hours
Scuba Diving
Free Cancellation
Scuba dive on the reef just off Coki Beach with a certified dive master. During this activity for certified divers, enjoy an easy, sandy entry into the water, then explore St Tomas vivid underwater world. The PADI-trained dive master will try to lead the dive to suit your abilities and desires; you may see eels, rays and barracudas. All scuba equipment is provided.
View Tour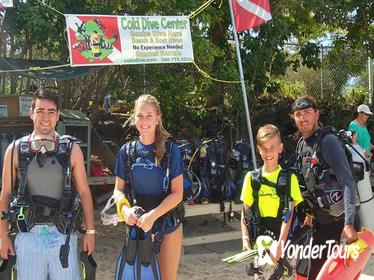 $ 76
2 Hours
Scuba Diving
Free Cancellation
Learn to scuba dive during this PADI Discovery Scuba course on Coki Beach in St Thomas. Under the supervision of your PADI Dive Master, get a dry-and lesson in basic scuba skills and diving theory. Put on the equipment and accessories for the first time and practice using the breathing apparatus in shallow water just offshore. Finally, follow your instructor on your first open water dive on a live coral reef. Small groups are limited to 4 divers or fewer to ensure safety and your instructor's attention.
View Tour
$ 75
1 Hour 30 Minutes
Scuba Diving
Free Cancellation
Immerse yourself in St Thomas' underwater nightlife during this exciting night dive. From Coki Beach, follow your PADI-certified dive master into the water to see the coral reef come alive with nocturnal creatures. With a small group of certified divers, see parrot fish beginning to weave their nightly sleeping cocoon, or watch eels, octopus and stingrays moving about under the cover of night. Enjoy warm water temps, calm conditions and a wide variety of marine life. Use of dive equipment is included.
View Tour