ShowingFilter 1-3 of 3 listings.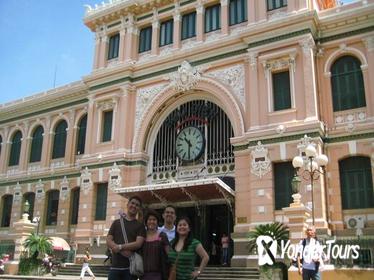 $ 37
8 Hours
Private Sightseeing Tours
Hotel Pickup Offered
Hit all of the Ho Chi Minh City highlights on this full-day private tour with stops at some of the city's most famous historical, cultural and architectural sites, including the Reunification Palace and War Remnants Museum. Travelers will get to see the French influence on this Asian city during stops at the Notre Dame Cathedral and Post Office, as well as sample traditional cuisine during a typical Vietnamese lunch. After a satisfying meal travelers will comb through the stalls of Giac Lam Pagoda. This Chinese district of Cholon and Ben Thanh market is the perfect place for visitors to test their bargaining skills and collect souvenirs for the return trip home.
View Tour
$ 76
7 Hours
City Tours
Hotel Pickup Offered
Free Cancellation
Dive into Ho Chi Minh City's history and culture on this 7-hour sightseeing tour with a guide. Visit attractions like Ben Thanh Market, Saigon Notre-Dame Cathedral, Reunification Palace, the War Remnants Museum, Giac Lam Pagoda, and a lacquerware factory. Learn about the sites as you go, and break for a traditional Vietnamese lunch.
View Tour
$ 57
8 Hours
Day Trips
Hotel Pickup Offered
Immerse yourself in the vibrant atmosphere of Ho Chi Minh City on an adventurous full-day tour. Gain fascinating insight into the city's rich cultural and historical heritage as you explore significant sites with a knowledgeable guide; haggle for souvenirs at Ben Thanh market; and feast your senses on a local lunch of traditional Vietnamese cuisine. Visit the Reunification Palace and War Remnants Museum to learn of the country's turbulent history and conclude the day with a serene stroll down tree-lined boulevards.
View Tour