ShowingFilter 1-2 of 2 listings.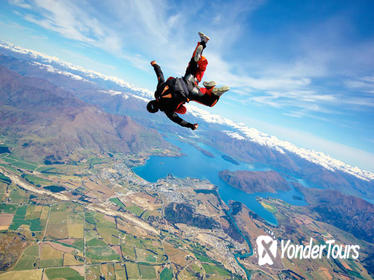 $ 248
3 Hours
Adrenaline & Extreme
Free Cancellation
Experience New Zealand's South Island from the air on a 3-hour sky diving tour from Wanaka. The plane ride to jump altitude offers views of the Southern Alps, Mt. Cook, Mt. Aspiring, the Clutha River, and several lakes. Then, securely strapped to your guide, you'll jump from 12,000 feet (3,658 meters), and experience both the thrill of the free fall and the peace of drifting down to earth when the parachute opens. Your tour includes guide, air tour, and hotel pickup and drop-off from central Wanaka.
View Tour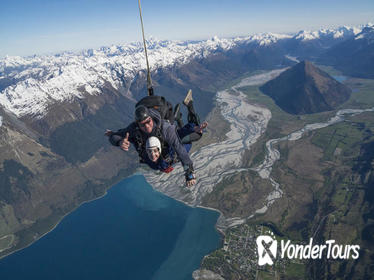 $ 205
4 Hours
Adrenaline & Extreme
Free Cancellation
Get the ultimate adrenaline fix with an exhilarating tandem skydiving experience in Glenorchy. Feel the thrill of a high-speed free-fall as you jump from 15,000 feet (4,572 meters) and reach speeds of up to 200km/hr (124m/hr). Then, float back to earth under a canopy and soak up the breath-taking scenery of the UNESCO-listed Mt Aspiring and Fiordland national parks. Most importantly: your tandem skydive will be accompanied by a tandem instructor at all times, ensuring maximum fun with minimal risk!
View Tour