ShowingFilter 1-3 of 3 listings.
$ 1,333
5 Days
Bike & Mountain Bike Tours
Free Cancellation
Discover Myanmar's back roads and serene countryside on a 5-day cycling adventure through the Shan Hills and Plateau. Explore rural villages fringed with tea plantations, and set out on quiet paths towards Inle Lake, riding 99 miles (160 kilometers) of moderate terrain. Wander the centuries-old pagodas of Shwe Inn Dein, stop for tea at hilltop caf es and pass terraced fields of rice and chili peppers; board a boat across Inle Lake, then take in the floating gardens, monasteries and markets that line the shimmering, misty lake shore. 
View Tour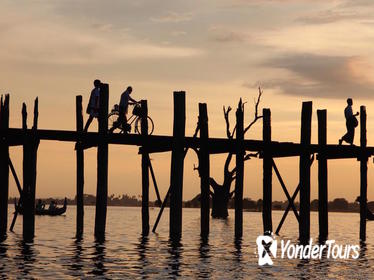 $ 60
6 Hours
Bike & Mountain Bike Tours
Hotel Pickup Offered
Free Cancellation
Experience sunset at U Bein Bridge on a 6-hour cycling tour through Mandalay's back roads and lively neighborhoods. Pedal along ancient canals that support the city's agriculture, ride through rural villages and fertile farmland, and trace the atmospheric paths across the ancient imperial capital of Ava. Step onto the elegant U Bein Bridge, and watch Myanmar's evening sun illuminate the .75-mile (1.2-kilometer), teakwood span.
View Tour
$ 54
2 Hours 30 Minutes
Bike & Mountain Bike Tours
Hotel Pickup Offered
Explore Inle Lake and its surroundings by bike and finish your ride at a winery during this private 2.5-hour bike tour. Pedal through picturesque Nyaung Shwe, see the hulking Buddha statue Kyauk Phyu Gyi, and pass small villages and farmland for a glimpse of rural life. At the hillside winery, take a short tour then cap off your tour with a glass of wine while watching the sunset.
View Tour