ShowingFilter 1-3 of 3 listings.
$ 102
8 Hours
Night Tours
Hotel Pickup Offered
Free Cancellation
Uncover the mysteries of the rain forest by day and night on this unique 8-hour tour of Paronella Park, including hotel pick-up from Cairns. Enjoy unbeatable views of the UNESCO-listed rain forest as you walk the Mamu Tropical Skywalk, then head to Paronella Park to spot colorful birds and butterflies, and cool off with a swim at Josephine Falls. After a delicious dinner at a local restaurant (if option selected), head back to the park after nightfall to discover the beautifully illuminated waterfalls and nocturnal wildlife.
View Tour
$ 33
1 Hour 30 Minutes
Night Tours
Free Cancellation
Discover the plants, animals, and people of Australia's central desert environments during a 1.5-hour evening tour of the Alice Springs Desert Park. Your guide leads you on a nighttime walking tour that allows you to see creatures such as echidna and mala (rufous-hare wallaby) as they become active after dark.
View Tour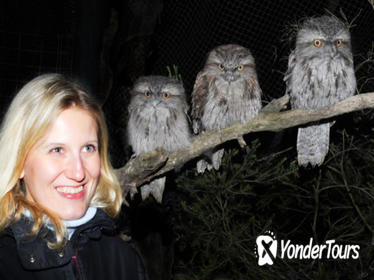 $ 100
4 Hours
Night Tours
Hotel Pickup Offered
Free Cancellation
Prepare to be enchanted by Australia's nocturnal wildlife on this 4-hour evening tour of Melbourne's Moonlit Sanctuary, including hotel pick-up. Follow your guide on a lantern-lit stroll around the animal sanctuary, where you can get up close to Tasmanian devils; hand feed kangaroos and wallabies; and spot rare creatures like feathertail gliders, miniature kangaroos and barking owl.
View Tour