ShowingFilter 1-3 of 3 listings.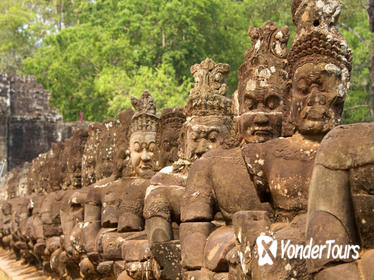 $ 98
10 Hours
Full-day Tours
Hotel Pickup Offered
Explore Cambodia's stunning ruins on this full-day private tour of Angkor Wat Ancient temples from Siem Reap. Start the day exploring the Roluos Temple Group before returning to town for a traditional Cambodian meal. After enjoying a savory lunch at a local restaurant, head out to famous Angkor Wat, where you'll climb to the top of Phnom Bakheng and experience the magic of sunset over these iconic ancient ruins.
View Tour
$ 40
10 Hours
Full-day Tours
Free Cancellation
Explore the natural wonders and ancient treasures of the Phnom Kulen National Park on this full-day tour from Siem Reap. Discover ancient Khmer ruins, receive a blessing at the sacred River of a Thousand Lingas, visit the famous Reclining Buddha, and take a swim beneath the Kulen Waterfall.
View Tour
$ 105
Discover the mysteries of Angkor on this full-day, small-group temples tour from Siem Reap. See the iconic Angkor Wat and the enigmatic faces of Bayon temple. Wander around Ta Prohm, where the trees are intertwined among the ruins, and enjoy a traditional lunch at Sras Srang -- the Royal Baths. This is a perfect tour for those who want to see the highlights of the Angkor temples in one day.
View Tour