ShowingFilter 1-3 of 3 listings.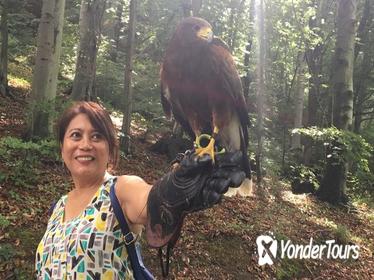 $ 75
3 Hours
Nature & Wildlife
Free Cancellation
Visit one of the Zagreb region's most significant landmarks, and help bring its history to life, on this small-group, falconry-themed tour of Medvedgrad Castle. Choose a morning or afternoon tour to best suit your schedule, and set off from the city center. You'll have ample opportunity to explore the medieval castle, which is built on Mt. Medvednica and offers sweeping views of the city. You'll also witness a special falconry demonstration, and will learn about what daily life was like during the era.
View Tour
$ 31
9 Hours
Nature & Wildlife
Free Cancellation
Explore the waterfalls and walking trails of Krka National Park and its Skradinski Buk area during this 6-hour self-guided excursion departing from Split. Stroll the extensive walking trails through this scenic outdoor area, stopping to investigate historic watermills, scenic waterfalls, and even take a swim in the refreshing waters if you like.
View Tour
$ 139
16 to 18 Hours
Nature & Wildlife
Hotel Pickup Offered
Free Cancellation
Plitvice Lakes National Park (Croatian: Nacionalni park Plitviāka jezera, colloquial Plitvice, pronounced [plîtʋitse]) is one of the oldest and the largest national parks in Croatia. In 1979, Plitvice Lakes National Park was added to the UNESCO World Heritage register.The national park is world-famous for its lakes arranged in cascades. Sixteen lakes can be seen from the surface.[6] These lakes are a result of the confluence of several small rivers and subterranean karst rivers. The lakes are all interconnected and follow the water flow. They are separated by natural dams of travertine, which is deposited by the action of moss, algae, and bacteria. The particularly sensitive travertine barriers are the result of an interplay between water, air and plants. The encrusted plants and bacteria accumulate on top of each other, forming travertine barriers which grow at the rate of about 1 cm (0.4 in) per year.
View Tour