ShowingFilter 1-2 of 2 listings.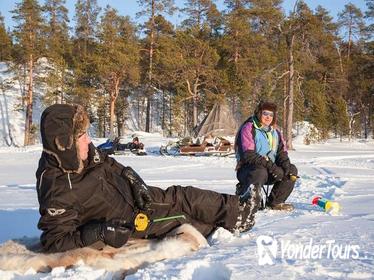 $ 184
5 Hours
Fishing Charters & Tours
Free Cancellation
Experience the art of Arctic ice fishing on this scenic 5-hour trip from Saariselkä. With a professional local fisherman as your guide, travel into the snowy countryside around Saariselkä and enjoy a snowmobile-pulled sleigh ride to a beautiful frozen lake. Receive your own fishing rod, get instructions, and try your hand at ice fishing in true Lappish style. Admire the scenery as you wait for a bite, and with luck, catch a fish or two. Conclude with a tasty lunch and drinks by the campfire before your return sleigh ride.
View Tour
$ 136
3 Hours 30 Minutes
Fishing Charters & Tours
Free Cancellation
Enjoy an unforgettable experience in Lapland's Arctic wilderness on this 3.5-hour snowmobiling and ice fishing experience from Luosto. Climb into your thermal suit and hop aboard your 2-person snowmobile. Head along winding, groomed trails through the dense forests and frosty fells to a frozen river where perch and trout thrive. Watch as your guide bores a hole in the ice, then drop your line in and wait for a bite! Finish your adventure with a hot coffee by the fire as your guide details the origins of ice fishing.
View Tour