ShowingFilter 1-3 of 3 listings.
$ 114
An absolute must for chocolate connoisseurs, this 2.5-hour walking tour takes you to the acclaimed chocolate shops of Saint-Germain. Alongside a gastronome guide, you'll visit prestigious chocolatiers to sample French delicacies such as the chocolate eclair, homemade macaroons, and delectable truffles. Discover the history of chocolate in Paris and find out how many tons of chocolate are consumed by French people every year. On this small-group tour, limited to eight people, you'll receive personalized attention from your guide.
View Tour
$ 369
2 Hours 30 Minutes
Chocolate Tours
Explore the scenic streets of Saint-Germain-des Pr es in the sweetest way possible. This family-friendly pastry and chocolate tour features a treasure hunt and at least 8 tastings. Visit the oldest chocolate shop in Paris, choose from a wide variety of macaron flavors, sample salted butter caramel, and taste a beautiful chocolate mousse. Your final stop is a chocolate shop where children will be able to create their own candy bars.
View Tour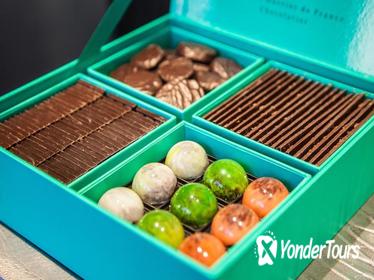 $ 75
2 Hours
Chocolate Tours
Free Cancellation
Treat your taste buds to a chocolate walking tour of some of Paris's finest sweet boutiques! Sample delectable truffles, clusters, cookies and bars at five top-rated chocolate shops within the city's elegant 1st arrondissement. Learn about the time-honored French art of making chocolate and pass some of the city's most famous sights along the way. Numbers are limited to eight people for a personalized tasting experience.
View Tour