ShowingFilter 1-2 of 2 listings.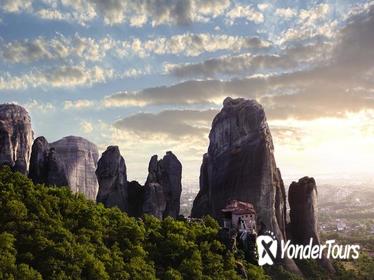 $ 179
2 Days
Multi-day Rail Tours
Marvel at the rocktop monasteries of Meteora on a 2-day rail trip from Athens. Travel north by train to Kalambaka and after free time to explore and relax, stay overnight in a 3- or 4-star hotel. The next day, enjoy a guided morning tour of the UNESCO-listed medieval monasteries, built atop giant sandstone pillars. Your trip includes return rail tickets, overnight accommodation, the morning Meteora tour, and breakfast and dinner at your hotel.
View Tour
$ 260
2 Days
Multi-day Rail Tours
Delve into the history and natural beauty of one of Greece's most awe-inspiring sites with this 3-day tour from Athens to Meteora. Ride the train from the capital to Kalambaka with included round-trip tickets, and explore the remarkable clifftop monasteries built by monks seeking refuge. The tour includes guided transport around the UNESCO World Heritage Site, breakfast and dinner each night, and your choice of 3- or 4-star overnight accommodation in Kalambaka.
View Tour