ShowingFilter 1-2 of 2 listings.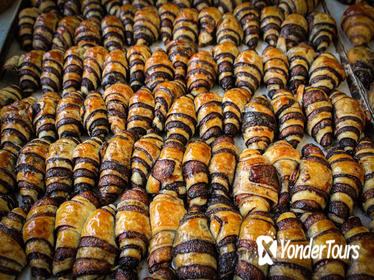 $ 37
3 Hours
Food Tours
Free Cancellation
Taste your way through Jerusalem's biggest outdoor market on a 3-hour, gourmet tour of Mahane Yehuda with a local guide. Have your lunch on the go as you visit a series of five market stalls for samples, and get an inside perspective on a foodie hotspot in the heart of Jerusalem.
View Tour
$ 31
2 Hours 30 Minutes
Food Tours
Free Cancellation
Explore Jerusalem's Machane Yehuda market with the Bite Card - a culinary passport that takes in the most distinctive flavors of "The Shuk." Follow a map of the market to sample rich sambusak and imaruly, savory pastries filled with spinach or cheese, and nibble aromatic Moroccan treats. Sip fresh juice, taste sizzling kebabs and sip fresh coffee with a locally-baked cookie. Discover the market at your own pace and immerse yourself in the scents and sights of Jerusalem's most iconic market.
View Tour