ShowingFilter 1-3 of 3 listings.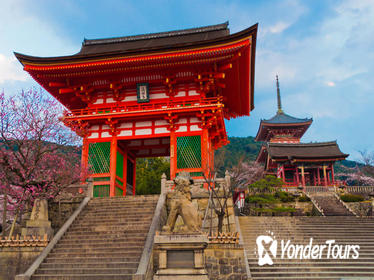 $ 487
3 Hours
Private Sightseeing Tours
Free Cancellation
Gain a newfound appreciation for the ancient Japanese practices of Buddhism and Shintoism during this 3-hour private walking tour of Kyoto with a local religious scholar. The ancient Japanese city of Kyoto, home to countless temples and centuries of religious practice, is the perfect setting for your exploration. During the course of your excursion you'll check out the historic neighborhood of Gion, where you'll see Yasaka Shrine and the UNESCO World Heritage-listed Kiyomizu-dera Temple, learning about the symbols and practices of these two Japanese religions along the way.
View Tour
$ 41
3 Hours
Custom Private Tours
Hop aboard a traditional rickshaw with guide for a journey through the atmospheric streets of beautiful Kyoto on this easily-customizable ride with 30-minute, 45-minute, 1-hour, 2-hour, and 3-hour tour options. Depending on the ride length you select, you'll be peddled through the serene shrines of west Kyoto's Arashiyama neighborhood, discovering its picturesque Bamboo Grove, or admiring the wooden structures and ancient alleys of the Higashiyama district.
View Tour
$ 89
3 Hours
Cultural Tours
Free Cancellation
Investigate the fascinating Japanese religious traditions and monuments of Shintoism and Buddhism on this 3-hour, small-group walking tour of Kyoto led by a local scholar. Admire Kyoto's most important ceremonial sites, including Yasaka Shrine, Kennin-ji Temple and the UNESCO World Heritage-listed Kiyomizu-dera Temple. Along the way you'll gain a newfound appreciation for Japanese religious rituals and practices, including Shintoism, a belief system indigenous to Japan, and Buddhism, which was imported from China and Central Asia. Best of all, this intimate tour, limited to just 6 guests, ensures a personalized experience.
View Tour