ShowingFilter 1-3 of 3 listings.
$ 2,582
The best tour you can book if you want to know more about yucatan and its culture, the state has a lot to explore, so if you are determined to visit it you can not miss this Tour.Uxmal: Surrounded by legends, myths and anecdotes; poetic in its name and its history, is located in the valley of Santa Elena next to a series of hills that are known by the name of Puuc.Kabah: It is located 23 km southeast of Uxmal by road no. 261; taking the deviation to the right at km 16, very close to the city of Ticul, his name has been interpreted as "Lord of the strong or powerful hand". Merida: "The white city" is distinguished by being quiet and its inhabitants friendly and hospitable. Merida was founded on January 6, 1542, and built on the Mayan city of Toh.Izamal: This colonial city is known as "the city of the three cultures" because it combines features of its pre-Hispanic past, the colonial period and the current era. It is located 1 hour from Merida.
View Tour
$ 105
2 Days
Archaeology Tours
Hotel Pickup Offered
Free Cancellation
Immerse yourself in Mayan culture with this 2-day tour from Merida. Enjoy a guided visit to Chichen Itza in the early morning, before the crowds arrive, then visit Kabah and Uxmal on the second day. Entrance fees, lunch, and round-trip transportation from Merida hotels are included.
View Tour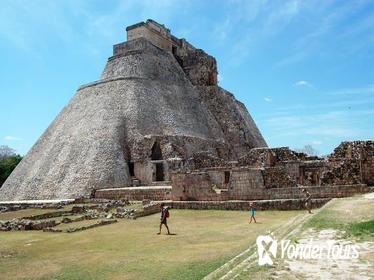 $ 62
8 Hours
Private Sightseeing Tours
Hotel Pickup Offered
Free Cancellation
Enjoy a private tour to two main archaeological sites in the Yucatan Peninsula: Uxmal and Kabah. Accompanied by a professional guide, you'll tour these places and discover all about the richness of the Maya civilization. As you arrive, enjoy the tranquility of the places without large crowds, making this a not-to-be-missed experience. Your tour includes transportation and lunch.
View Tour