ShowingFilter 1-3 of 3 listings.
$ 88
1 Day
Private Sightseeing Tours
Hotel Pickup Offered
Mexico has 35 cities with "magical" designation. Take a private tour of one of them, Izamel, known "the city of the three cultures" due to its Mayan, Colonial, and Mayan traditions. The first thing you will notice is that the entire town - market, buildings, convent, everything - is painted a cheery shade of yellow. Visit the highlights, including a beautiful convent, with your expert guide while you learn more about this enchanting city. After a buffet lunch, head back to Merida.
View Tour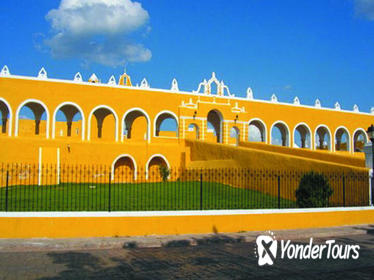 $ 55
6 Hours
City Tours
Hotel Pickup Offered
Free Cancellation
Explore Izamal, the Yucatan's 'City of Hills', on this affordable guided tour. After a convenient hotel pickup, travel with your guide down Izamal's colonial streets to learn about the city's Mayan past. Visit the pyramid of Kinich Kakmo, the ruins of Kabul and Itzamatul, and the convent of Izamal on one all-day tour.
View Tour
$ 48
9 Hours
City Tours
Hotel Pickup Offered
Free Cancellation
Visit the beautiful colonial city of Izamal on comprehensive all-day guided outing that includes a tour of its 400-year-old Franciscan convent, a spectacular sound and light show, and a horse-drawn carriage ride. After convenient hotel pickup, let an informative guide enrich your experience by sharing the history of the region, from its pre-Hispanic pyramids to its present-day landmarks.
View Tour