Choose from 2 Fun Things to Do in Ko Lanta
ShowingFilter 1-2 of 2 listings.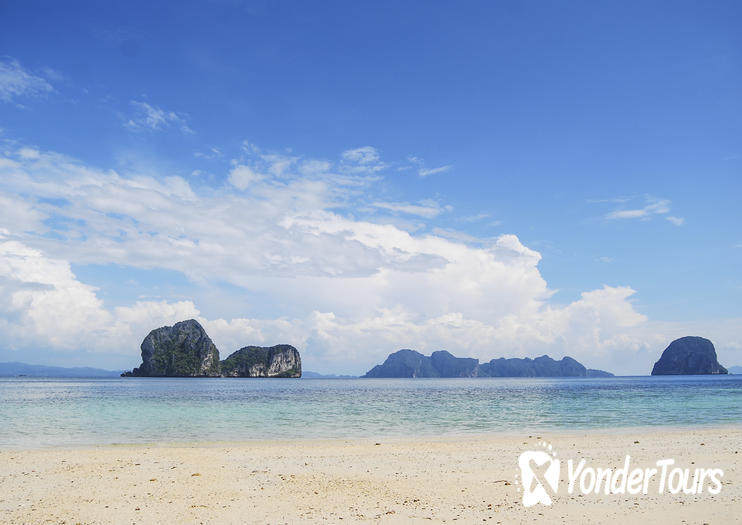 Just south of bustling Ko Lanta is the picturesque Thai island of Koh Kradan. Most of the island is a national park""perfect for hikers""and the 1.25 miles (2 kilometers) of sandy beach offer visitors a serene place to relax. Plus Koh Kradan is surrounded by crystal-clear waters teeming with marine life, great for divers and snorkelers.
The Basics
The remote island of Koh Kradan is part of the Hat Chao Mai National Park, controlled by the Thai government. The island is ideal for visitors who want to soak up the sun on coral sand beaches, and enjoy the beautiful fauna and flora of the island and surrounding waters. Most full-day tours to Koh Kradan leave from Ko Lanta and also visit the nearby islands of Koh Chuak, Koh Mook, and Koh Ngai.
Things to Know Before You Go
Koh Kradan is a must-visit for nature lovers and underwater wildlife enthusiasts.

Tours typically include hotel pickup and drop-off on Ko Lanta as well as lunch and snorkeling gear.

There are no ATMs or medical clinics on remote Koh Kradan.

There are fewer than 10 resorts on the island, ranging from budget rooms to luxury bungalows.

How to Get There
Koh Kradan is located off the western coast of Thailand in the Trang province. The only way to access Koh Kradan is by boat. From the mainland, take the ferry from Trang's Hat Yao Pier to Koh Kradan. Ferry service also operates from Koh Lanta to Koh Kradan, as do full-day tours.
When to Get There
The best time to visit Koh Kradan""and Thailand in general""is during the dry season, November to April. During the rainy season, from May to October, most of the resorts on Koh Kradan and the other Trang islands are closed and tourism activity is limited.
Underwater Weddings
The opportunity to get married underwater is a rare one, but every year Koh Kradan hosts subaqueous wedding ceremonies around Valentine's Day. Scuba diving couples are whisked out to sea, partake in a traditional blessing ceremony, and then head under the surface with a representative of the district office to tie the knot. Only qualified divers may take part in the underwater weddings, and newlyweds leave with a waterproof marriage certificate.
Morakot Cave, aka Emerald Cave due to the water's emerald color that is refracted from the sunlight, is one of the most popular attractions in Thailand's Trang islands. At first blush the cave looks like only a hole in a limestone cliff—but once you venture inside the dark entrance, a paradisiacal, sunny white beach appears.
The Basics
The tricky-to-access Emerald Cave is well worth the adventure. To reach the beautiful lagoon, you must join a guided tour that leads you on a swim through a 260-foot (80-meter) lit up by provided headlamps. Your destination is a large hall illuminated by sunlight shining through a small opening, and a sandbar surrounded by trees. 
Most tours to Morakot Cave are included in the 4-island tour from Koh Lanta to Koh Chuak, Koh Muk, Koh Kradan, and Koh Ngai. These tours allow time for visitors to spend the day swimming, snorkeling, and kayaking in and around the four islands, discovering the underwater marine life and admiring the picturesque island scenery.
Things to Know Before You Go
Morakot Cave is a must-visit for adventure seekers and nature lovers.

Be sure to bring sunscreen, preferably one that is coral-reef friendly, and a towel.

Do not attempt to visit the cave without a knowledgeable guide to direct you through the tunnel.

Most tours offer snorkeling equipment, a buffet lunch, and light refreshments.

Lifejackets are provided but be prepared—and fit enough—for a lengthy swim to access the cave.

How to Get There
The Emerald Cave is located on the western coast of Koh Muk, in the Trang province. You can access the cave only via one of the many tours offered on the Trang islands, and then by swimming through the narrow tunnel.
When to Get There
You can access the cave only during low tide, generally between 10am and 2pm, as the entrance passage is small and low. The best time to visit Koh Muk, and Thailand is general, is during the dry season (November to April).
Koh Muk
Branch out beyond the Emerald Cave and spend more time on Koh Muk. A 45-minute ferry ride from Khuan Tuang Ku Pier on the mainland, the small island has a handful of budget and mid-range accommodations (that generally operate only during the high season). Koh Muk's beautiful beaches and great snorkeling spots offer spectacular ways to enjoy a relaxing holiday.
Address:
Koh Mook, Thailand