Choose from 15 Fun Things to Do in Krabi
ShowingFilter 1-15 of 15 listings.
Luxury beach resorts with pampering garden pools and high-end add-ons attract a jet-set crowd to Ao Nang Beach on the Andaman Sea. Ao Nang is an ideal base for island-hopping trips, sea-kayaking adventures and day tours to local attractions like snake farms, pineapple plantations and hot springs.
Diving excursions head off from Ao Nang to nearby Raillay or further afield to Koh Phi Phi. The seafront promenade at Ao Nang is lined with souvenir shops, tailors and restaurants.
Practical Info
Ao Nang Beach is 22 kilometers (13.5 miles) west of Krabi. Ferries run from here to Koh Phi Phi, and minibuses run to Krabi.
Address:
Highway 4203, Ao Nang 81000, Thailand
This museum within the grounds of the Wat Khlong Thom temple in Krabi displays artifacts unearthed during excavations carried out behind the wat.
Bronze tools, beads and stone ornaments form the majority of the exhibits, dating back to perhaps 5,000 years ago.
The beads are a particularly significant part of the collection, made of glass and stone. Roman coins have also been found here, along with pottery and ceramic shards.
Practical Info
The Wat Khlong Thom Museum is on the Phetchakasem Highway heading east of Krabi towards Trang, in the district of Khlong Thom.
Address:
Phetchakasem Highway, Krabi 81000, Thailand
Hours:
Open daily 8:30am - 11am and 1pm - 5pm
Surrounded by towering limestone cliffs and backed by thick forest, the interconnected fairy-tale beaches of Railay are accessible only by boat. The four beaches—Tonsai, Phra Nang, East Railay, and West Railay—offer powder-soft white sand, clear calm waters, and a decidedly bohemian vibe perfect for those looking to get away from it all.
The Basics
While the talcum-soft sand is certainly a compelling reason to visit Railay Beach—visitors can easily find day trips by longtail boat from Phuket and Ao Nang—the other big draw is the rock climbing here. It's considered some of the best in Thailand, especially on the rocks around Railay East, and you don't need any special experience to try it. Guided climbing tours cater to climbers of all ability levels, including newbies.
Things to Know Before You Go
Railay Beach is a must-visit for sun seekers and adventure travelers.

Don't forget to bring a towel, swimsuit, and sun protection for time on the beach.

Excursions to Railay Beach can take anywhere from four to eight hours, depending on the option chosen.

Bring sturdy shoes if you plan to rock climb or hike to some of the area viewpoints.

Purchase sunscreen, snacks, and drinks before you arrive, as prices tend to be higher in Railay.

Be sure to keep your electronics and valuables in waterproof bags during the boat ride to Railay Beach.

Island-hopping day tours that include Railay often stop at Chicken Island, Poda Island, and Tup Island.

How to Get There
Though on the mainland, Railay Beach is only accessible by boat, either from Krabi (90 minutes) or Ao Nang (15 minutes). There are no motorized vehicles in the area, but all the points of interest can be reached on foot.
When to Get There
For the best balance of good weather and sparser crowds, plan to visit in either May or October. The dry season falls between December and April, when the beaches become busy with day trippers. September is the wettest month in this region.
Other Attractions in Railay Beach
Aside from the soft sand and limestone rocks, Railay Beach has a couple of other notable points of interest. Just to the north of Railay East sits Phra Nang Cave, also called Diamond Cave, where visitors can follow a boardwalk past glittering cave formations. Phra Nang Shrine, located at the northern end of Phra Nang Beach, has become known for the collection of carved phalluses left there by local fisherman asking safe journeys of the drowned princess the beach is said to be named for.
Address:
Railay Beach, Krabi, Thailand
Tup Island is one of the most popular offshore islands around Krabi, and is a staple part of the itinerary for most day trips from the mainland. Situated southwest of Ao Nang and between Poda Island and Chicken Island, Tup is smaller than the other islands in the archipelago it belongs to, but its white sands and excellent snorkeling certainly don't disappoint. 
Tup Island is most commonly visited as part of a 'Four Islands' longboat tour from Ao Nang. The three other islands include Poda Island, Chicken Island, and Mor Island, with a stop at Phra Nang Cave Beach usually included. This entire area is incredibly scenic, with panoramic views of the Krabi coastline as its backdrop.
The clear waters and abundance of tropical fish surrounding Tup Island make it a haven for swimming and snorkeling, although many visitors prefer to simply relax on the beach or enjoy a stroll. At low tide, a sandbar emerges linking Tup Island with Chicken Island as well as the smaller Mor Island. This unique occurrence is commonly referred to as Talay Waek, meaning 'divided sea'.
Practical Info
Tup Island is included in Krabi's Four Island tours, which depart from Ao Nang, as well as a number of other beaches along the Krabi coastline. Alternatively it's possible to charter a private longtail boat with a driver.

Some sort of footwear is recommended when walking across the sandbar between the islands, as sharp coral and shells usually emerge from the water and lay strewn across the sand.
Address:
Tup Island, Krabi, Thailand
Pa Phru Tha Pom Khlong Song Nam -- it's a mouthful that in English means "canal of two waters" "" is a stunning natural paradise where crystal-clear freshwater springs meet saltwater mangrove forests. Located about 21 miles (34 kilometers) outside of the town of Krabi, Pa Phru Tha Pom Khlong Song Nam is lined with boardwalks, making it a photogenic place for nature walks beside and above the water. Wooden chairs placed throughout give guests a spot to stop and admire the views.
One of the best ways to experience the natural beauty of the area is in a canoe. Rentals are available by the hour or the day, and from the park entrance, you can paddle all the way to the Andaman Sea.
Practical Info
Give yourself about an hour to wander the boardwalks or canoe through the canals. The park is open year round, but the waters are at their clearest during periods of low tide.

Address:
Moo 2 Ban Nong Chik, Khao Khram Subdistrict, Thailand
Located about 30 miles (50 kilometers) north of Krabi, Ao Luk provides visitors a playground of outdoor adventures. While Krabi might bring to mind images of idyllic beaches, Ao Luk is more about the jungle, especially within Than Bok Khorani National Park. Here, eco-tourists find abundant treks, waterfalls, caves, mangrove forests and the stunning (and swimmable) Bok Khorani pond. The park also contains a series of small islands popular for canoeing, snorkeling and diving.
An alternate way to explore the Ao Luk district is in the tree tops themselves. Tree Top Adventure Park, one of the area's most popular attractions, takes visitors through the canopy from platform to platform by way of rope walks, zip lines, Tarzan swings, rope bridges and flying skateboards.
Practical Info
Buses traveling between Krabi and Phuket stop in Ao Luek.

Address:
Ao Luek, Thailand
Thailand has plenty of wats (temples), but the Tiger Cave Temple - or Wat Tham Seua - is a standout.
In a forest setting, the wat's main hall is built into a long limestone cave and surrounded by monastic cells built into the cliffs and caves. Underscoring the brevity of life, the temple is decorated with skulls, skeletons and graphic pictures of human entrails.
A lighter note is struck by the troop of monkeys living around the temple. Walks through the temple grounds lead to 1,200 steps climbing to the summit of a 600 meter (1,968 foot) peak topped with a gilded Buddha statue. If the sky is clear, you can see the sea from here. Another set of steps leads to a second network of limestone caves.
Practical Info
The Tiger Cave Temple (Wat Tham Seua) is 8 kilometers (5 miles) northeast of Krabi.
Address:
Highway 4034, Krabi 81000, Thailand
Hours:
Open 24 hours a day
Koh Poda, part of a tiny archipelago in Krabi province off the west coast of Thailand, ranks among the most picturesque of the many uninhabited and semi-inhabited islands that line the coast. Longtail boats drop visitors off along a stretch of sugar soft, white sand beach, famous for its clear waters and stunning views off offshore limestone formations. Thanks to its west-facing beach, the area is particularly lovely around sunset.
Tropical fish are visible in the waters just off the beach, but just a little further out a coral reef rings much of the island, providing excellent snorkeling opportunities for those who can pull themselves from the beach. While the island does have a single guesthouse, most visitors come on a day trip from nearby Ao Nang. 
Practical Info
The only way to reach Koh Poda is by boat, typically from Ao Nang, about 5 miles (8 kilometers) away. The island is under the administration of Had Noppharatthara - Mu Koh Phi Phi National Park, and as such, visitors are required to pay a small fee.
Krabi is famous for its towering limestone cliffs, idyllic beaches and peaceful mangrove forests, and Ao Thalane (Thalane Bay) represents one of the most beautiful mangrove forests in all of Thailand. On this stretch of coast 12 miles (20 kilometers) from Krabi Town, dense mangroves shroud the karsts and cliffs, hiding caves, small inlets and secluded lagoons. 
The best way to explore Ao Thalane is with paddle in hand. Shaded by the canopy, kayaking through the winding network of mangrove roots gets visitors close to nature, where it's possible to spot kingfishers, crab-eating Macaques, river otters, herons, monkeys, monitor lizards and snakes. It's an ideal place to escape the bustle of Ao Nang or Krabi for a day spent surrounded by only the sounds of nature.
Practical Info
Generally, mid-tide is the best time for kayaking in Ao Thalane, as it will be possible to explore more areas. Low tide, however, offers better access to caves and better chances to see the critters living on the muddy banks.

Address:
Khao Thong Subdistrict, Krabi, Thailand
The Wareerak Hot Spring Spa is a unique, award-winning spa located within tropical jungle in Khlong Thom district, Krabi. As well as offering a tranquil place to stay, the spa also offers full- and half-day hot spring experiences, including various treatments, lunch, and return transfers.
Located close to Krabi's famous Namtok Ron waterfall, the spa uses natural hot spring water to promote good health and vitality. Along with the thermal pools, it offers hydrotherapy sessions, spa treatments, Thai yoga, and Thai massages. There are 14 bungalows and villas that are designed to invoke a sense of relaxation and pampering for overnight guests, and the communal areas include a botanical garden, nature trail, reflexology track, relaxation areas, and a meditation zone.
Practical Info
Various packages are available for half-day, full-day, and overnight visits to the Wareerak Hot Spring Spa. These include relaxation treatments, lunch and round-trip transfers from Ao Nang or Krabi Town.
Address:
18 Moo 7, Khlong Tom Nua, Krabi 81120, Thailand
Admission:
Dependent on package
Originating from a warm stream in the lowland forest of Khao Nor Juji, the Emerald Pool (or Sa Morakot) is a hot spring located within the Khao Pra­Bang Khram Wildlife Sanctuary in Krabi. 
The dazzling Emerald Pool is 115 long, 214 meters wide, and deep enough to swim in (although, due to the high levels of calcium carbonate, visitors should avoid swallowing any water while doing so). The color of the water varies according to the reflection of the sunlight at different times of the day. To experience the most intense emerald hue, visit at dawn or as early in the morning as possible.
There are three nature trails that lead to the Emerald Pool. The first is a direct 800­ meter path from the main entrance. The second is via 'Thung Tieo­Sa Morakot', which is around 1400 meters long and and more challenging, but is ideal for birdwatchers and nature lovers. The third method is the longest at just under three kilometers, and is a scenic nature trail through the forest.
Practical Info
To reach the Emerald Pool from Krabi, take Highway No.4 to Khlong Thom and turn left on the road towards Thung Yai. Follow signposts to the Khao Pra­Bang Khram Wildlife Park from here. It is also possible to take a motorcycle taxi from Klong Thom.
Address:
Khao Pra­Bang Khram Wildlife Sanctuary, Krabi, Thailand
Part of a small peninsula located between Krabi Town and Ao Nang, Phra Nang Beach is one of the most scenic and picturesque beaches in the country. This short but broad strip of sand boasts that classic jaw­dropping beach scenery only found in Thailand, with pure white sand framed by limestone cliffs and lapped by calm waters that are ideal for swimming and 
snorkeling.
This whole area is particularly popular with rock climbers, and even if you don't join in, it's fascinating to watch those who do climb up right from the beach. At the southern end of the beach is a giant limestone cliff that contains the famous PrincessCave, said to be the home of a mythical sea princess. Other activities to keep you amused while you admire the scenery include having a massage, enjoying a barbecue, hiking, sunbathing and, of course, going for a swim.
Just 20 minutes away from Ao Nang by longtail boat, fortunately Phra Nang Beach still lacks all the things that can quickly spoil a beach in the south of Thailand: noise, pollution, traffic, jet­skis, and over­zealous hawkers.
Practical Info
Phra Nang is part of the Railay Peninsula and is easily accessible via longtail boat from Ao Nang. Unless you pay to hire the whole boat, you'll need to wait until it fills up before the driver will depart.
Address:
Phra Nang Beach, Krabi 81000, Thailand
The Mu Koh Lanta Marine National Park protects 15 islands in the Koh Lanta island group, including the southern tip of Koh Lanta Yai. Perhaps the most beautiful island is Koh Rok Nai, with its cliff-backed crescent bay, gorgeous beach and great reef diving.
There are limestone caves to explore at Koh Talabeng, a popular destination for sea-kayaking tours.
Practical Info
The Mu Koh Lanta Marine National Park surrounds the island of Koh Lanta Yai in the southern tip of Krabi province.
Ferries run from Krabi to Ban Sala Dan on the northern tip of Koh Lanta Yai, taking around 1.5 hours. Marine park excursions leave from Ban Sala Dan.
Address:
Koh Lanta Yai, Kho Lanta 81150, Thailand
Koh Yao Noi is situated midway between Phuket and Krabi in Phang Nga Bay. It's a diverse and scenic island, with mangrove forests lining its west coast and white-sand beaches fringing its eastern edges. Yao Noi is around half the size of neighboring Koh Yao Yai, but is nonetheless the more developed of the two. However, beyond the 7Eleven, high-end resorts, and guest houses, local life on Koh Yao Noi continues, with farming and fishing the main source of income for the island alongside tourism.
Yao Noi is a joy to simply ride around, either on a hired motorbike or via a tuk tuk. It has one main road that circles the southern half of the island, with smaller paved roads taking off in different directions, plus a few dirt tracks leading up to the north. Along the way, it's all about taking in the scenery – the wooden houses on stilts, rubber plantations, rice paddies, and mangrove forests. Other activities available on the island include kayaking, hiking, snorkeling, and swimming.
Insider's Tip: Along with Koh Yao Yai, the best time to visit Yao Noi is generally between November and April, when it's dry and warm. Some places even close during the monsoon season from May to October.
Practical Info
It's around a 30-minute speedboat trip from Phuket's east coast to Koh Yao Noi. Long-tail boats also make daily trips to Yao Noi and Yao Yai. Those arriving from Phuket will land at Manoh Pier on the island's southwest corner, while boats from Krabi arrive at Tha Khao Pier on its east coast.
Address:
Koh Yao Noi, Phuket, Thailand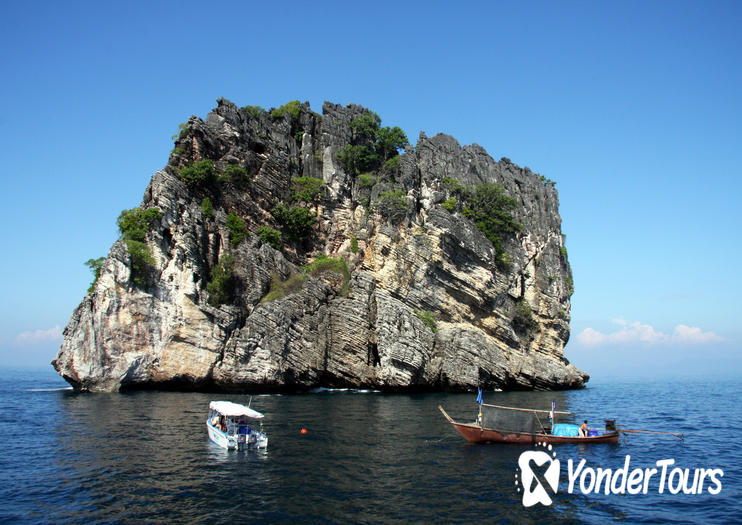 A tiny, remote cluster of five uninhabited islands some 10 miles off the coast of Koh Lanta in the Thai Andaman hides an underwater paradise. Here, striated granite pinnacles dotted with gnarly trees tower above some of Thailand's clearest and bluest waters. Koh Haa's shock of white sand beneath its central, protected cerulean lagoon affords a breathtaking backdrop for some of the best snorkeling and diving in the country.
Comprised of northerly Ko Haa Neung, central Koh Haa Sam and southerly Ko Haa Yai, as well as two tiny unnamed pinnacles guarding sentry at the mouth of the lagoon, the underwater landscape is just as rugged as the rocky islets themselves. Protected swim-through caves hide lobster, morays and schools of shimmering fish, while vibrant coral is littered with psychedelic nudibranchs (sea slugs), and drop-offs provide the occasional glimpse of deeper denizens such as sharks. Sixteen recognized dive sites with names such as Lost Pinnacle, The Cathedral, Lionfish Den and Cliff Jump Cove divulge some of what's in store.
Practical Info
It's not easy to get to Koh Haa, which means chances are high you'll share this paradise with only a few other boats. However, as word has gotten out, tour operators from as far afield as Phuket—more than 50 miles away—have begun offering day-long snorkel trips to the area. These often involve long boat rides and can incorporate other island stops. An alternative allowing for more snorkel or dive time around Koh Haa is to leave from points on the island of Koh Lanta. Regardless of your point of origin, the open ocean crossing to Koh Haa can be rough even in the calmer seasons post-monsoons between November and March. Make sure that if you make the trip, you do so with a trusted outfitter.
Address:
Koh Haa Islands, Khao Thong, Mueang Krabi District 81000, Thailand