Choose from 2 Fun Things to Do in Luzon
ShowingFilter 1-2 of 2 listings.
It's not hard to see why Zoobic Safari is one of the top family attractions in Subic Bay. Spread across 25 hectares of terrain, this is a must­-visit for animal lovers, where a whole range of exotic species roam around in environments designed to simulate their natural habitats, including forests, streams, and fringing grasslands.
There are 11 main attractions from which to encounter the animals at the zoo. These include: Zoobic Park, Rodent World, Serpentarium, Forbidden/Zoobic Cave, Tiger Safari Ride, Close Encounter, Savannah, Animal MuZOOeum, Aetas' Trail, Hip Hop­Bay­a­Wak, and Croco Loco.
Most visitors staying in Manila combine a trip to Zoobic Safari with a day tour of Subic Bay so that their transport, guide, and lunch are included and they can take in the attractions ofthe whole area. Ideal for nature and wildlife enthusiasts, as well as history buffs, a day tourgives an insight into the wildlife, indigenous culture, and military history of the Philippines, with a visit to the Subic Naval Base and a training camp in addition to the Zoobic Safari.
Practical Info
As a top attraction, Zoobic Safari can become incredibly busy at the weekends, so aim for a weekday if you don't like crowds. If not arriving as part of an organized tour, the easiest way to reach Zoobic Safari is by taking a taxi.
Address:
Group I Ilanin Forest, Subic Bay Freeport Zone, Philippines
Admission:
Adult: PHP 545 / Child: PHP 445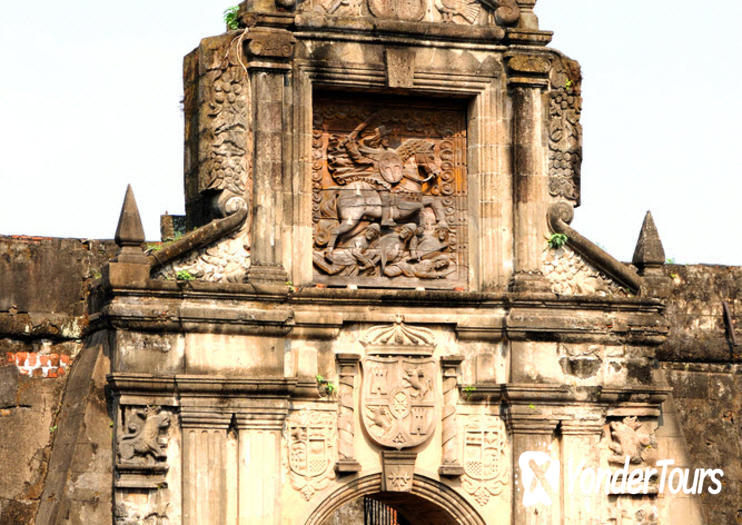 One of the most important sites for Philippine history in Manila, Fort Santiago was built by the Spanish conquistador Miguel López de Legazpi as a defensive fortress designed to protect the newly formed city. The fort is a key feature of the famous walled city known as Intramuros — a complex of manicured gardens, fountains, lily ponds, and sunny plazas, as well as the Rizal Shrine museum, located in the building where Dr. Jose Rizal (a Philippines national hero) was incarcerated during the late 19th century.
The 16th-century Fort Santiago is an ideal place for a quiet picnic or a scenic walk. The site's extensive military history and impressive architecture make it an absolute must for visitors to Manila, so a visit is typically included in half- and full-day city tours. These tours often also include visits to other historical sites, such as the American Cemetery and Memorial, Fort Bonifacio, the UNESCO World Heritage-listed San Agustin Church, Casa Manila, and sometimes a cruise on Manila Bay.
Fort Santiago is a must for history buffs in Manila.

Don't forget your camera; there are plenty of photo ops inside the fort.

Families with kids can utilize the small playground found within the fort.

There's plenty of shade in the fort, but be sure to bring water, sunblock, and insect repellent on warm days.

How to Get to Fort Santiago
Fort Santiago is located on Santa Clara Street along the Pasig River near Rizal Park. The easiest and most convenient way to visit the fort is on a guided tour of Old Manila, but it's also possible to go on your own via public transportation. If you're riding the LRT, get off at Central Station and make the short walk to the fort entrance, or get off at Carriedo Station and ride a jeepney toward Mabini. The driver can let you off near the gate.

When to Get There
Fort Santiago is open daily from 8am to 6pm, but many travelers choose to visit in the morning when the weather is still relatively cool, ending the visit with a shaded picnic lunch. The Rizal Shrine within the fort has limited hours on Mondays.

Discovering Fort Santiago's Dark History
While Fort Santiago is today a quiet escape for the people of Manila, its past was more tumultuous. During World War II, the site's Spanish colonial era military barracks held hundreds of Filipino and American POWs. Visitors can also see a dungeon cellblock where Rizal spent his last night, as well as a set of brass footprints in the pavement marking his last steps to the spot where he was executed.
Address:
Santa Clara St, Manila, Philippines
Hours:
Open daily 8am-6pm
Admission:
Adults: 65 PHP; Children: 50 PHP