ShowingFilter 1-2 of 2 listings.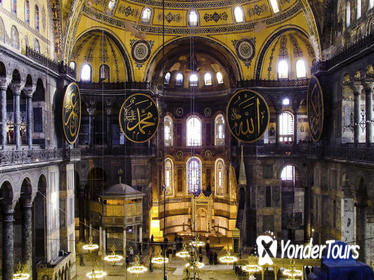 $ 46
4 Hours
Skip-the-Line Tours
Hotel Pickup Offered
Free Cancellation
Explore the bustling Grand Bazaar and save time with skip-the-line access to top attraction Hagia Sophia on this half-day small-group guided tour in Istanbul. Bypass the long queues at Hagia Sophia, a UNESCO-listed monument, and learn about the history of this former church and mosque. Ogle mosaics and gaze up at the its dome structure, an engineering marvel. Then, take the pulse of the Grand Bazaar, a bustling covered market with over 4,000 shops and stalls. Learn the bargaining ropes from your guide, and then peruse through countless tapestries, antiques and souvenir stalls. This small-group tour is limited to 15 people, creating a more personalized experience with your guide.
View Tour
$ 46
4 Hours
Skip-the-Line Tours
Hotel Pickup Offered
Free Cancellation
Save time and skip the line on this small-group guided half-day Topkapi Palace Istanbul tour which includes a visit to Süleymaniye Mosque and a ceramics workshop. Jump ahead of the rest and step into Topkapi Palace to explore courtyards, treasures and rooms of artifacts. See where Ottoman sultans once assembled their harems and visit the Palace Harem (own expense). Then, marvel at the 16th-century Süleymaniye Mosque before you discover a workshop where master potters fire their elegant ceramic pieces. Small-group tours are limited to 15 guests to assure an intimate day with your guide.
View Tour