ShowingFilter 1-2 of 2 listings.
$ 168
5 Hours
Sailing Trips
Hotel Pickup Offered
Sail the shimmering seas of the Basque Coast on an idyllic 5-hour boat tour from Bilbao. Climb aboard a luxurious vessel and cruise to some of the area's most spectacular spots; see the blissful beaches of Meñakoz; marvel at the undulating sand dunes of Aizkorri; and gaze at the gorgeous Gorliz lighthouse as your guide provides a captivating commentary. Convenient round-trip transportation is included from your Bilbao hotel on this tour.
View Tour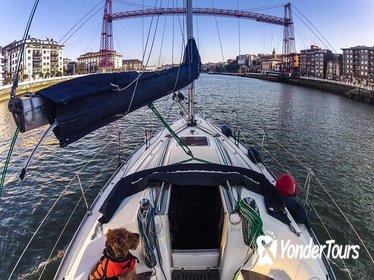 $ 110
Cruise the Ría de Bilbao (or Bilbao Estuary) and gain a unique perspective on the city's urban rejuvenation on this 2-hour sailboat tour. Set off from the Maritime Museum and head north toward the Bay of Biscay. Pass by the UNESCO-listed Vizcaya Bridge and learn about its innovative structure and construction from the guide. You'll also catch sight of former industrial settlements, including Zorrozaurre, whose streets are now lined with impressive modern developments. Your cruise is limited to just five passengers, ensuring a small-group experience, and includes a glass of Rioja wine.
View Tour