ShowingFilter 1-3 of 3 listings.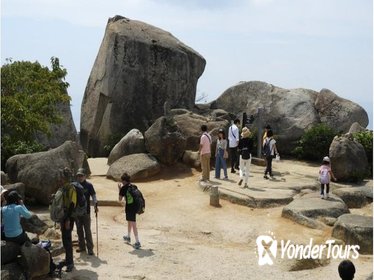 $ 88
5 Hours
Climbing
Hotel Pickup Offered
Mount Misen, the tallest mountain on Miyajima, offers sweeping views of the Seto Inland Sea and as far as Hiroshima. Climb to the peak in confidence in the company of a guide who knows the trails well. As you slowly climb along the forested trail, admire the flora and trail-side stones, which include one with a carved Jizo, guardian deity of children. Near the summit, see the Holy Fire Hall, which has been burning day and night for 1,200 years. After time at the summit, take the easy route down via the ropeway
View Tour
$ 124
5 to 6 Hours
Hiking & Camping
Free Cancellation
Hike to the panoramic summit of Miyajima's highest mountain during this scenic and invigorating guided trek, which includes round-trip ferry rides to Miyajima Island. Enjoy plenty of time to explore the ancient sacred site, including the UNESCO-listed shrine of Itsukushima and dozens of Buddhist caves, home to statues and artifacts. Relax and enjoy the standout scenery, with your private group guide on-hand to keep things running smoothly.
View Tour
$ 82
8 Hours
4WD, ATV & Off-Road Tours
The coastal landscapes of Tomonoura are among the most scenic in Japan and provided inspiration for movies like 'Wolverine' and Ghibli's 'Ponyo on the Cliff by the Sea'. On this tour, admire the stunning landscapes from the water and paddle past seafront villages, island shrines, and deserted beaches on a kayak.
View Tour