ShowingFilter 1-3 of 3 listings.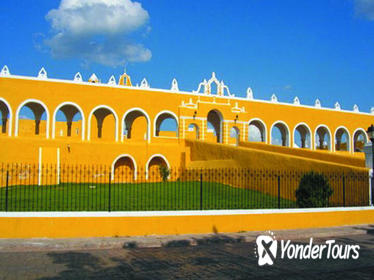 $ 55
6 Hours
City Tours
Hotel Pickup Offered
Free Cancellation
Explore Izamal, the Yucatan's 'City of Hills', on this affordable guided tour. After a convenient hotel pickup, travel with your guide down Izamal's colonial streets to learn about the city's Mayan past. Visit the pyramid of Kinich Kakmo, the ruins of Kabul and Itzamatul, and the convent of Izamal on one all-day tour.
View Tour
$ 17
2 Hours
City Tours
Free Cancellation
Board a colorful, open-air bus for a relaxed and educational tour of Merida, the capital city of Yucatan state. See the city's most important and historic buildings, including Merida Cathedral, Iglesia de la Tercera Orden, and Casa de Montejo, a 16th-century mansion featuring colonial plateresque architecture. This family-friendly tour is the perfect way to get an overview of the city.
View Tour
$ 48
9 Hours
City Tours
Hotel Pickup Offered
Free Cancellation
Visit the beautiful colonial city of Izamal on comprehensive all-day guided outing that includes a tour of its 400-year-old Franciscan convent, a spectacular sound and light show, and a horse-drawn carriage ride. After convenient hotel pickup, let an informative guide enrich your experience by sharing the history of the region, from its pre-Hispanic pyramids to its present-day landmarks.
View Tour