ShowingFilter 1-2 of 2 listings.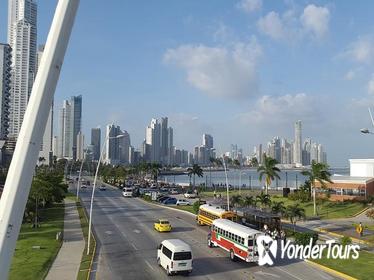 $ 320
5 Hours
City Tours
Hotel Pickup Offered
Free Cancellation
Get the perfect introduction to Panama's vibrant capital with a half-day, private Panama City and Panama Canal tour with a local guide. Trace an all-star route through the city, with the flexibility to customize the day to your interests, with a focus on culture, history or shopping. Stroll the historic enclave of Casco Viejo and explore the jungles of Ancon Hill; take in the beaches and clubs on the Amador Causeway then see a century-old engineering marvel at Miraflores Locks.
View Tour
$ 65
3 Hours
Half-day Tours
Hotel Pickup Offered
Journey to the top of Ancon Hill, the highest point in Panamá City, on this 3-hour guided tour. Learn about the history of the area from your local guide, including its past under U.S. jurisdiction and its role in the planning of the Panamá Canal. Visit Mi Pueblito, an area that displays typical clothing, homes and way of life. Stop at the Panamá Canal Administration Building to see where the country first received the Panamá Canal. All entrance fees and round-trip transportation from Panamá City hotels are included.
View Tour