ShowingFilter 1-2 of 2 listings.
$ 49
4 Hours
City Tours
Free Cancellation
Go to the heart of America's Legislative and Judicial branches of government on a small-group tour of Capitol Hill that explores the U.S. Capitol, the Library of Congress, the Supreme Court, and the Folger Shakespeare Library. This tour goes inside each destination for a guided tour, and highlights include reserved-entry at the U.S. Capitol, a look at Thomas Jefferson's own book collection, and entry to the Supreme Court, with a guide to help bring Capitol Hill's fascinating politics and history to life.
View Tour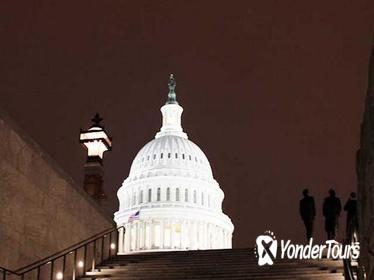 $ 20
2 Hours
Ghost & Vampire Tours
Free Cancellation
There's a long and haunted history behind one of America's most notable buildings, as the US Capitol is one of Washington DC's most haunted spots. Hear the tales of political tragedy and local superstition, and gain spooky insight into some of the Capitol's little-known, little-told secrets. Led by a professional tour guide and actor, this tour will help you see the Capitol in an unknown - and undead - light.
View Tour