ShowingFilter 1-3 of 3 listings.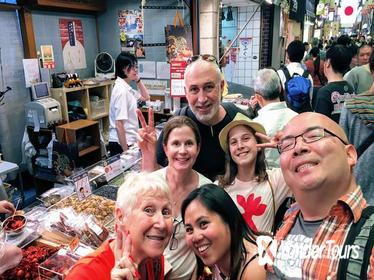 $ 30
1 Hour 30 Minutes
Market Tours
Nishiki Market is a famous traditional market in Kyoto. But if you go by yourself, you'll just walk 1,000 feet and not find what you want. We will take you to our recommended stores, and show you where to find the best food from a local's perspective. You can learn local culture during this experience. This tour starts at 15:30 pm. We'll introduce you to many good foods you can try. You can sample many things without hesitation. And we have a connection with the Japanese lifestyle store -great if you want to buy souvenirs. We'll spend about 1.5 hour in Nishiki Market. Hopefully you will have many shopping bags. At the end, we can tell you about other good spots to visit in Kyoto. We'd like to help you work out an itinerary for enjoying our town.
View Tour
$ 115
It can be hard to know where to go to get the best local food in a city as full of delicacies as Kyoto. Join a professional guide for a 3-hour tour of the Nishiki Market, Gion district and beautiful Fushimi Inari-taisha shrine. Visit 'Kyoto's kitchen, learning about the history of food and tasting unique dishes such as tofu skin, pickled vegetables, and sake. Your guide takes you through Gion to see historic landmarks, spot Geisha, and give you a glimpse of Japanese spirituality.
View Tour
$ 65
3 Hours
Market Tours
Free Cancellation
Explore Kyoto's Nishiki Market with a local guide. Your shared small-group tour (maximum of 10 people) will begin at a cooking studio near the market, where your guide will give a short talk about the tour and what it entails. Afterwards you'll exploring Nishiki market with the guide.While walking through the market, you'll learn about Japanese traditional foods in great detail, with many being mostly unknown outside of Japan. Your guides will help facilitate communication between you and the shopkeepers to provide a rare and genuine experience. After touring the market, you will return to the cooking studio and try cooking donburi (rice bowl dish with seafood, tempura or chicken & egg) with fresh ingredients you bought at Nishiki. If you bought something for yourself in the market, the friendly guide will gladly help you cut or warm up the food for you.
View Tour