ShowingFilter 1-3 of 3 listings.
$ 20
2 Hours
Ghost & Vampire Tours
Free Cancellation
Washington DC is one of America's most famously historic cities, but aside from the political happenings around town and the legendary memorials, there's a haunted side to Washington DC that too often goes untold. During this two hour Washington DC haunted house walking tour, join a local guide and actor for a journey around the nation's capital that explores the paranormal. Hear the tales of death and tragedy that circle Lafayette Square, and finish the tour in front of the White House with a spooky, scary, and haunted sense of the capital's turbulent past.
View Tour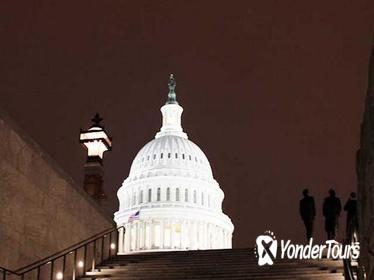 $ 20
2 Hours
Ghost & Vampire Tours
Free Cancellation
There's a long and haunted history behind one of America's most notable buildings, as the US Capitol is one of Washington DC's most haunted spots. Hear the tales of political tragedy and local superstition, and gain spooky insight into some of the Capitol's little-known, little-told secrets. Led by a professional tour guide and actor, this tour will help you see the Capitol in an unknown - and undead - light.
View Tour
$ 20
1 Hour 30 Minutes
Ghost & Vampire Tours
Free Cancellation
Take a spooky stroll through Washington DC on this guided, 90-minute walking ghost tour. Visit one of the most haunted buildings in the world - the United States Capitol Building, including the Supreme Court Building and the Library of Congress. Hear the stories of feuding ghosts of past lawmakers, haunted souls surrounding the Trial of the Lincoln Assassination Conspirators, the phantoms of past presidents and the curse that surrounds everything on Capitol Hill. It's a fascinating, spine-tingling adventure.
View Tour